Renee Grant owns and operates a boutique home nail and beauty salon in the ACT. We catch up with her to talk about her thriving business, Renaissance Nails and Beauty.
Tell us about Renaissance Nails and Beauty?
"Renaissance Nails & Beauty was established in 2014. Up until that point I had been working in a local salon. I loved it there, however during that experience I found my true passion within the industry – Bio Sculpture Gel and nail art. So I decided I would take the leap and give it a go on my own so I could focus on the specific services that I truly loved."
How was it opening a home salon?
"Scary at first. All these doubts go through your mind – will clients even want to come? Will I make enough money? Can I do it on my own? I was very blessed to be in a situation where I had the support from my parents to begin my journey operating out of their home. It allowed me to keep injecting my income back into the business so that I could build my supplies up and grow it into a full time operation before I built my first home with my husband. I took the leap, not knowing where I would end up, and here I am five years later."
Tell us about the design?
"When I was planning the design of the studio in our new home the interior mainly revolved around my tanning pod that was going to be installed. The pod is black, so I stuck with white and grey as the other shades for the interior. I have styled it with little touches of greenery (fake – because I am a nail tech and don't have a green thumb) to soften the vibe and add some colour. It is not a huge room so I have kept it minimal, clean, fresh and professional. I want my clients to feel as though they are in a high class street salon, but for it to still feel warm and inviting. I always have a candle burning, a cup of tea ready and of course a few cuddles from George my Toy Poodle."
Who is your typical clientele?
"Most of my lovely ladies are working mums that need time out from their kids. They take pride in their appearance but are happy to spend the time with me getting their nails or lashes done, which in turn will spare them lots of time during the weeks in between their appointments. My clients also care a lot about their health and wellbeing so are happy to invest in high quality products and treatments that won't cause them any harm."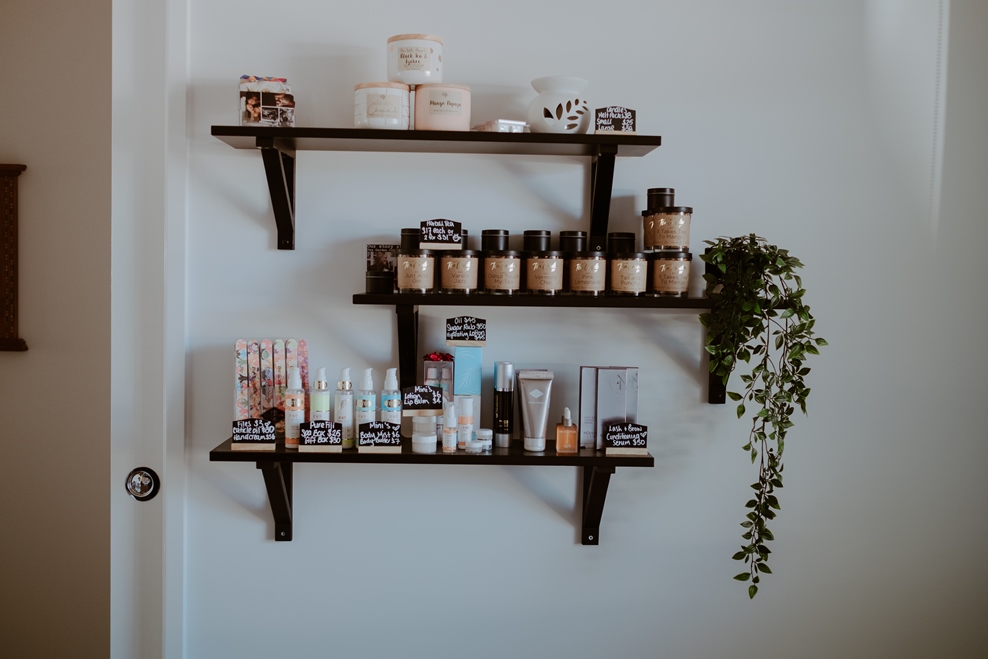 What are the most popular nail treatments?
"The nude mani is always a winner. Most will add a subtle feature nail or two to flair it up a little but the less is more look is definitely popular with my clients at the moment."
What are some of the challenges faced by your salon?
"Business in general always ebbs and flows for everyone. Thankfully, the services I specialise in are generally consistent 'all year round' treatments, so my business isn't affected too much by the typical season change that other salons might face. However, when it's only me, myself and I, there is no one to help me out if I am sick or take over my clients while I'm on holidays. Cancellations are also tricky for me. I don't get many of them, but they seem to come in blocks whenever I do. That cuts a significant chunk of my income out for that week. To overcome this, I always have a little money put away for a rainy day and I change the way I look at the situation. Instead of being frustrated at something I can't really control, I take advantage of the new bit of free time I have gained to catch up on admin. When you have a business, there is always something to be done."
Tell us about as your role as Bio Sculpture Gel and Nouveau Lashes educator?
"Becoming an educator was always an aspiration of mine and being offered the opportunity to educate for two amazing brands is truly a dream come true. I have always loved sharing my work with other therapists, inspiring them and encouraging them to try new things. What better way to do so than to be the educator for the products that I use and absolutely love? Working from home and on your own can sometimes feel a little isolating. Even though I see clients all day most days, that contact isn't quite the same as having a team to bounce off and probably the one thing I miss about working in a salon environment. The girls at Bio Beauty Concepts HQ have welcomed me with open arms and it is so lovely to feel part of a team again. Educating has added an extra element to my career that allows me to continue to build on my skills as a therapist and as an individual."
List all the retail brands you stock?
"I love supporting local businesses. Tea Garden Co are in Canberra and The Little Flame Co are a beautiful handmade soy candle business located in Goulburn. I also stock Bio Sculpture Gel and Nouveau Lashes products, Techno Tan and Pure Fiji."
How do you use social media?
"Facebook was huge when I first established the salon so that definitely helped me to get myself off the ground and that was before they had introduced paid posts and advertising. I reached many people locally that way. Instagram followed suit not long after and has definitely taken over from Facebook. Not only do I reach clients on Instagram, but I also reach fellow technicians all over the world. It's an amazing community where you feel connected to so many like-minded people. Having access to instantaneous connections and support forums is great as well."
 For more news and updates, subscribe to our weekly newsletter.