How important is education to you and your team? 
At Advanced Cosmeceuticals, there are many facets to the company that are important to us as a team and education is one of those facets. But how important is education to me and the team? It is very important! It is paramount to the success of our clients.  To be ahead of the game in this competitive industry, one needs to be a point of difference whether as a clinic or as an individual. That 'point of difference' is being as knowledgeable as possible about the products that are both retailed and used in clinic but also having a clear understanding of the treatments being performed. 
As a company who distributes skin care products and devices, it is important for us to ensure that our clients fully understand what they are working with. This not only ensures that our clinics work with the products and devices effectively and successfully but also safely. Providing ongoing education and training will also help our accounts be ahead of the game and be that point of difference.
As an educator, it has always been my focus to help make a difference whether it be in a large group setting, one-on-one or as 2020 has taught me educating via Zoom. The end goal is always the same and that is to further someone's knowledge so they can be the best they can be as a therapist or as a clinician. This may mean that at times l am getting someone out of their comfort zone, but l believe that is when the real magic happens.
Providing education in an industry that l am passionate about has always been important to me and at Advanced Cosmeceuticals, l have the opportunity every day to share in my passion. l am also very fortunate to be working alongside a team that is just as passionate about making a difference.
During the pandemic how did you alter your education for staff and clients?
2020! What a year! Let me put it this way. Honestly, l really did not know about Zoom prior to March 2020…now like everyone else it is one of the online training platforms l have become proficient at.  Advanced Cosmeceuticals, like all companies, had to pivot quite quickly so that we were able to continue to provide the high-level of service we were accustomed to providing but on a virtual scale. 
Prior to the first lockdown, education and training at Advanced Cosmeceuticals has always been provided in a couple of different ways. We would hold product training days in hotels throughout the year across the country where we could house
up to 40-50 people, which have always been successful. Further to that, the sales and training team would conduct in-clinic training, which enabled us to provide personalised training specific to the needs of the clinic.
Pivoting to online education was not at all challenging as we could continue to essentially provide what we were doing face- to-face and translate that to an online platform. PowerPoint presentations that were being used could continue to be used on Zoom and provide us the opportunity to provide National Education Sessions or book in face-to-face via a computer and conduct ongoing personalised training for individual clinics.
The huge advantage of educating from an online platform is the ability to capture so many more attendees from all around Australia at the same time. It made for interactive sessions that were both fun and informative. It was lovely to see how many people wanted to take advantage of the 'downtime' and educate themselves.
As the online landscape grew not just within the realms of education and training but also within the realms of online sales, it was important for us to support our clinics in how to do this effectively and successfully.
To support our clinics during lockdown, especially our Melbourne clinics during their second lockdown, we provided Zoom sessions on how to conduct online skin consultations. This enabled the clinics to provide a service that could keep their clients connected to them but also continue to buy products based on their skincare needs following a personalised online  consultation. Many clinics had already embraced this online service but found the sessions helpful in how to make them more professional.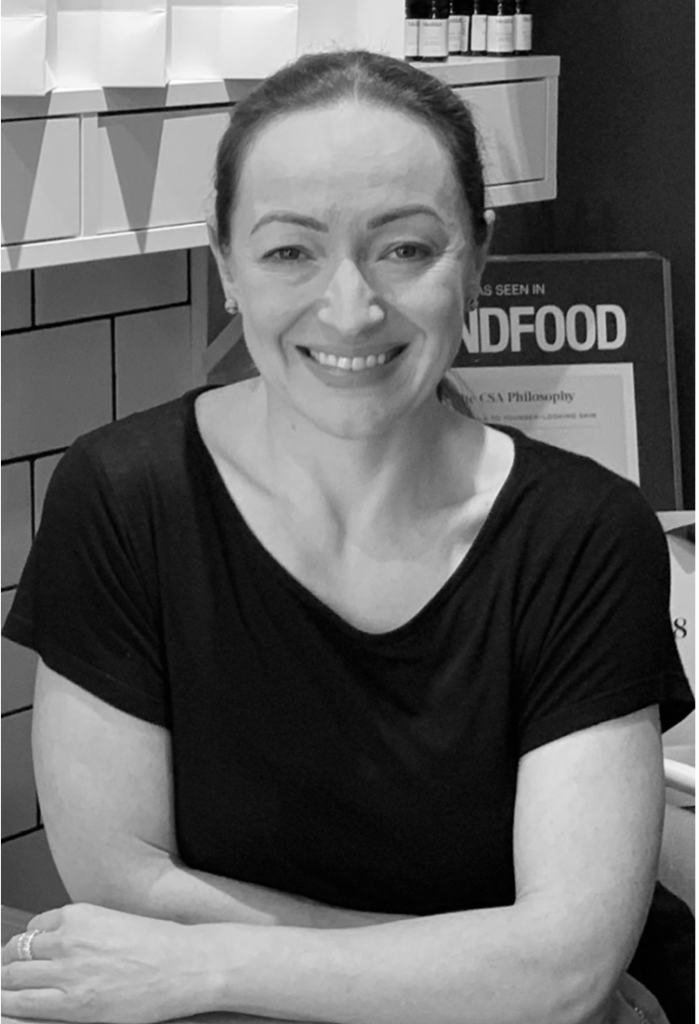 Tell us how it has changed to be an educator going forward?
Becoming an educator on an online platform l must admit was initially challenging, especially as l am someone who likes to use her hands a lot in training along with overall body language, such as moving around the space l am in whether l am standing or sitting. So, to sit all the time and only have my face on the screen…well…it was different!
However, as an educator you need to be open to change, be flexible as well as creative and the pandemic l am sure forced all educators within the industry to learn how to be creative and open to change, quite quickly. And boy we had to learn quickly!
Educating via an online platform taught me how to engage with our clients in a unique and different way while still providing the high level of education they are used to receiving. I needed to learn quickly how to not only engage but maintain interest when there were only my facial expressions to see along with hearing what l had to say. Not so easy via a screen but it worked, and l mastered a new skill in education and training.
So how has this experience changed me as an educator going forward? I have changed in knowing that there is flexibility in how we can train moving forward. Yes, there will always be a degree of face-to-face training required from a practical training perspective, but l am already learning that rather than taking a large amount of time for instance for theory and practical in one sitting, to utilize time more constructively theory training could be done via Zoom and then practical training could be done at a different time. This will allow for the theory knowledge to sink in and be understood and hence a better outcome from the training overall.
How important is it to upskill in a new landscape in 2021?
Upskilling is always important regardless of what is happening in the world around us because we are in an industry that is constantly changing and evolving. For instance, if your interest extends beyond traditional beauty therapy treatments, then it is very important to further your education. This may be completing a Dermal Science Degree or an equivalent course or perhaps completing a course in nursing or nutrition.
What is taught in a beauty therapy course is a very important foundation that one can grow from if they want to stay updated and relevant. What is so incredibly wonderful is the various options we have now as to which way we want to take our journey within the skin industry.
From an educators' perspective, it is not only important to continue to stay abreast of new ingredient technology and devices for example, but it is also ascertaining how proficient you are at educating and training on an online platform. Maybe discovering new platforms that provide online training a little differently or learning how to capture data more effectively such as who has attended the online training and what you will do with that information.
I must admit, what l will l need to upskill on is the administrative side of things from an online perspective because if online education and training is to continue, which it will, it's learning how to capitalise on it better.
This article first appeared in the January/February issue of Professional Beauty magazine. Download the issue here.
For more news and updates, subscribe to our weekly newsletter