THE FIRST INFLUENCER I followed was Chloe Morello, a North Coast teenager who shared her dabblings in makeup, along with detailed reviews and recommendations, on Youtube. Chloe was a year older than me, working her first hospitality jobs out of high school and blowing all her money on makeup. We shared what I would now refer to as a "bemused but enthused" approach to beauty and I couldn't get enough of her videos. But over time Chloe's life changed – her videos got slicker, she posted from press trips rather than her bedroom and her tutorials seemed carefully constructed to showcase her sponsors' products to their best advantage. While I didn't grudge her success, the magic was broken, and I wasn't the only person tuning out.
Hannah English: The sun-safe pharmaceutical guru
Hannah English is a rising Melbourne-based "Skinfluencer," an ex-pharmaceutical scientist with 50.7k followers on Instagram. That may sound like a lot compared to your mum's 140, but when viewed against Chloe Morello's 1.2million; Hannah is considered a micro-influencer. However, there's nothing micro about the people she's influencing – a quick scroll through English's followers shows half of Sydney and Melbourne beauty press and PRs, top brands, and an engaged community of skincare junkies who hang out for her Q&A's where she talks about everything from mental health to cosmetic chemistry. Hannah considers herself as much an educator as an influencer, breaking down the science behind skincare and busting prevalent myths.
English has gone viral multiple times with her work in the murky area of sun care – where consumer distaste and distrust is prevalent, and misinformation is high. Two of her viral pieces of content include a video where she applies the correct amount of SPF 50+ foundation needed to receive full sun protection (good luck blending blush over the top) and a hack video where she demonstrates how to effectively touch up sunscreen over makeup. Hannah attributes the popularity of this kind of content to the increased maturity of the millennial consumer – "Millennials grew up in the early stages of social media" she says "but now we have careers and kids and we're starting to see changes in our skin. As those biological realities set in, we're naturally looking for the most effective ways to combat them."
Hannah has worked with cosmeceutical companies and beauty service providers – reviewing her experiences with everything from Fraxel laser to teeth whitening. She says her approach to reviewing services, and businesses, differs from product reviews in a number of ways. She says, "Not all practitioners approach services the same way, so you can have the same treatment at two businesses and receive vastly different results, and a very different experience." For Hannah, the focus is one reviewing the overall experience with the business – "I will cover how my skin tolerates the treatment, and the changes I see, but I'll also get into how I felt in the space, how I was treated and the level and quality of information I was provided with."
Iain Jeffrey: The criminologist cracking the case on consumers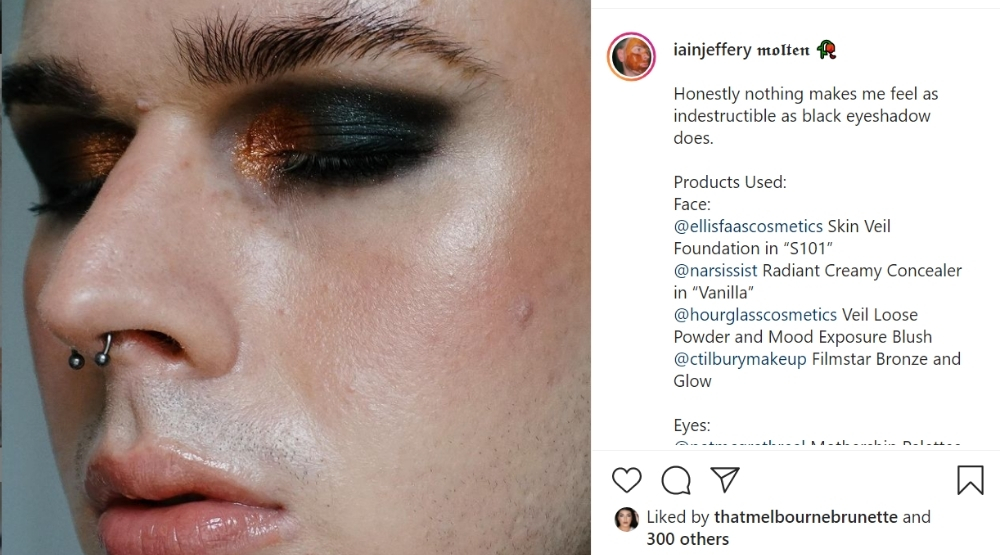 Iain Jeffrey is another skinfluencer providing a different kind of resource to brands. Iain worked for leading Australian retailer Mecca while completing a Ph.D. in criminology. They now support their study with influencer work that encompasses content creation and consulting. With close to 6k followers Iain is a micro-influencer who works with platforms like Adore Beauty BeautyIQ, Mecca Memo, and Mamamia Beauty Collective trialing products and writing thoughtful reviews. However, with a striking photographic style, they also create visual content and assets for brands, along with applying their extensive retail background to helping businesses work on consumer and staff education programs. They believe that with audiences better educated than ever, influencers need to up their game: "it's no longer enough to point out the difference between hyaluronic acid and sodium hyaluronate – they can google that! There is an expectation of hyper-education from anyone claiming to be an 'expert.'" And while a background in criminology might be unusual for a beauty expert, Iain believes insights into criminal minds have helped them understand consumer motivation and behavior – "at the end of the day, it's just about what makes people tick."
Michelle Wong: The educator who parlayed supramolecular chemistry into macro-influence
Michelle Wong is a specialist skinfluencer who has broken out of the micro-category. Wong completed her Ph.D. in Supramolecular Chemistry, before becoming Head of Chemistry at Matrix Education. Her blog Lab Muffin Beauty Science started as a hobby but has now turned into an education platform that spans Tik Tok, Youtube, and Instagram where she has close to 300k followers. It's recently become her full time job. While English and Jeffreys dabble in cosmetics, Wong's account deals almost exclusively with skincare and audience education.
Wong feels that while specialists and micro-influencers have thrived in an authenticity-driven social media environment, consumer interest in the science behind skincare has been accelerated by retail disruptor brands, who have brought science to the shop-floor. She says, "While we've had the infodemic last year that taught people the value of information from qualified sources, you can't discount the impact of brands like The Ordinary – who have normalised displaying percentages of chemical names, on budget-friendly, mass-distributed products." Michelle's audience is made up of the consumers who have taught themselves what these ingredients mean, but now want to understand how they work. Michelle's gift is that she makes the science behind skincare accessible. The frustration for many cosmeceutical and professional-grade brands is that customers don't understand that ingredients are only part of the equation, the formulation is 9/10ths of the law. Particularly when it comes to price point, this can be critical for customers to understand. Attending a Lab Muffin Online event for Skinceuticals I was struck by the ease with which Wong demonstrated the efficacy of Skinceuticals' patented, and much imitated, formulation. It took three minutes of Wong's science class, in which she used water, iodine, and two Skinceuticals competitor products, to convincingly demonstrate what one thousand press releases could never hope to.
Wong says the benefit for brands partnering with "skinfluencers" is obvious "Good social media educators and influencers are foremostly skilled cross-platform communicators, particularly with their unique audience. By partnering with brands and businesses can reach a subset of engaged potential customers, and know that the point of difference of their product and service is really clear.
---
THE FAST FOUR: WHAT YOU NEED TO KNOW
• CHANNEL: Instagram is the most effective channel for influencer marketing with over a billion users, 80% of whom follow business accounts.
• COST: MAFS star Martha Kalifatidis infamously claimed she makes more than the average Australian's annual salary in a month. While she didn't disclose a figure it's estimated she charges around $3000 dollars for a sponsored snap. Wink models confirms this, quoting between $2-4k for posts by influencers with 150k+ followers, meanwhile, for micro-influencers prices range from $75-800.
• LEGAL: Influencer marketing has been described as the "wild west" of advertising – but industry bodies are catching up. As of September 2020, the Audited Media Association of Australia established the Australian Influencer Marketing Council. The body requires advertising disclosures on all paid posts via hashtags like #sponsored and #ad. They also require disclosure for any contracted agreement whether it is a partnerships, ambassadorship or collaboration. Creators are encouraged to disclose when a product or service they are reviewing or featuring has been gifted. For more information visit the AMAA.
• YOUR RETURN: In 2019 marketers were receiving $6.50 for every $1.00 they invested on influencer marketing making it one of the most profitable online advertising channels.
Read the full article Under The Influence online now.
---
This article originally appeared in the July-August 2021 issue of Professional Beauty Magazine.
—
Read the current issue of our digital magazine here:
For more news and updates, subscribe to our weekly newsletter.
—
Have an idea for a story or want to see a topic covered on our site and in our pages? Get in touch at info@professionalbeauty.com.au.