Only available in clinics through therapist consultation, Medik8 Crystal Retinal™ 20 is formulated with stabilised retinal, a powerful derivative of vitamin A, and is the most powerful addition to the Crystal Retinal™ family.
Unmatched in its age-defying power, retinal can deliver results comparable to clinical-grade vitamin A, up to 11 times faster than classic forms of retinol.
Crystal Retinal™ 20 is a ground-breaking overnight serum that visibly minimises fine lines and wrinkles; firming and plumping the appearance of the complexion to resurface skin texture and soften the face.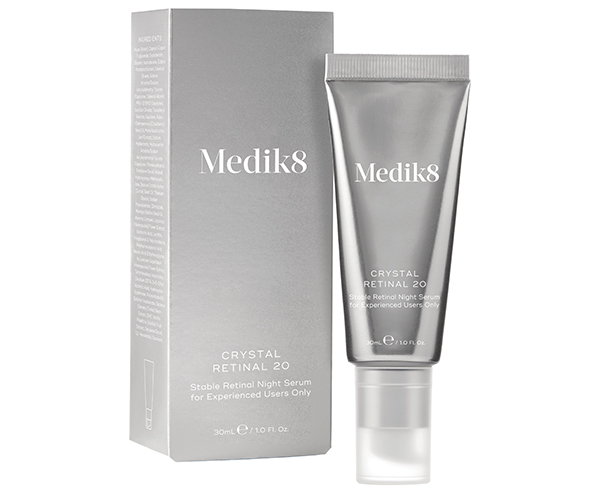 Featuring hyaluronic acid, glycerin and vitamin E, it hydrates skin at every level to deliver a visibly supple, even-toned, more youthful-looking complexion. More than that, it actively helps reduce blemish-causing bacteria to keep skin looking clear and balanced.
Clinical-grade vitamin A, otherwise known as retinoic acid, is a powerful skincare ingredient that triggers skin regeneration in order to effectively fight all visible signs of ageing.
However, unlike retinol, which must first be converted to retinaldehyde and then to retinoic acid within the skin, Crystal Retinal™ only requires one conversion to retinoic acid. This means it can deliver results comparable to clinical-grade vitamin A up to 11x faster than classic forms of retinol.
However, retinaldehyde is almost impossible to stabilise; hence the lack of products including the ingredient on the market. Rising to the challenge, the scientists at Medik8 were the first to stabilise this ingredient through a double layered stabilisation system; combining an ingenious crystal encapsulation that gives the range its name with a patent pending formula stabilisation complex to maximise the retinaldehyde's stability.
Crystal Retinal™ 20 is a powerhouse product and should only be used after a consultation (or e-consultation) with a professional. Crystal Retinal™ 20 is suitable for those who have completed 2 full tubes of Crystal Retinal™ 10 or 3 months of continuous use (whichever comes sooner).
www.medik8.com.au/introducing-crystal-retinal-20
Advanced Cosmeceuticals
www.advancedcosmeceuticals.com.au/
1800 242 011
cs@advancedcosmeceuticals.com.au