Tell us the vibe behind the interiors at the Tan Temple?
Glam and a high-end salon with a relaxing champagne lounge. We have a private area you can book for groups of four or more where we serve complimentary champagne and a cheese platter, very fun for hen's/bridal parties and its also popular for Mardi Gras.
How challenging has it been during these changing times?
Very challenging as having complete closure was a massive shock and the after effects of lock down are that we have a very uncertain future, it's an emotional rollercoaster. One that
we remain positive about, but we have had to adjust. I have an amazing support network of lady bosses in our local Bondi Salon network, we stick together and help each other out.
What changes have you needed to put in place going forward?
We use hospital grade disinfectant to clean the whole room, booth, locker, and doors in between every client so that no client has touched what anyone else has. In terms of cleaning our standard was very high previously it just takes a bit longer at the moment which is fine. Coming out of lockdown we have adjusted trading hours and they will stay this way for the time being.
What is the secret to your award-winning successful business?
Consistency in every single tan we do. Proper consultations with each and every client to make sure you are on the same page meeting their wants and needs, I find many services barely if at all do a consult before performing procedures, it so quick and easy! People need to be heard and re-assured that they are getting what they are wanting and paying for. It's also about hiring great staff and knowing how to develop and support that team.
What is the most requested tan at the salon?
All of them! We carry over 10 different brands and all the shades in those brands. They are all organic, paraben and alcohol free and they are not tested on animals and of course Australian made and owned.
Can you share with us any latest innovations in tanning?
Our clients have been loving the one hour tan. We have been getting lots of people to try this and the feedback has been fantastic. (We don't usually do it for a first visit as you initially look very dark before your shower) but it' so good for people who are short on time and in the hot summer months it will be great.
What is your top tanning tip for salon spray tanners?
Make sure each and every tan is the best you have done. Make sure the colour is correct for skin tone. Do not apply too much solution (this can go orange) blend wrists and wipe over palms after treatment. If you're going to do it, do it well. I'm a perfectionist and expect the same standard of my staff. Most of all making your client feel comfortable is one of the big reasons why they'll keep coming back.
How often do you update the look of your salon?
I would say every four to five years. We've had two renovations and we did a little re-fresh after lockdown.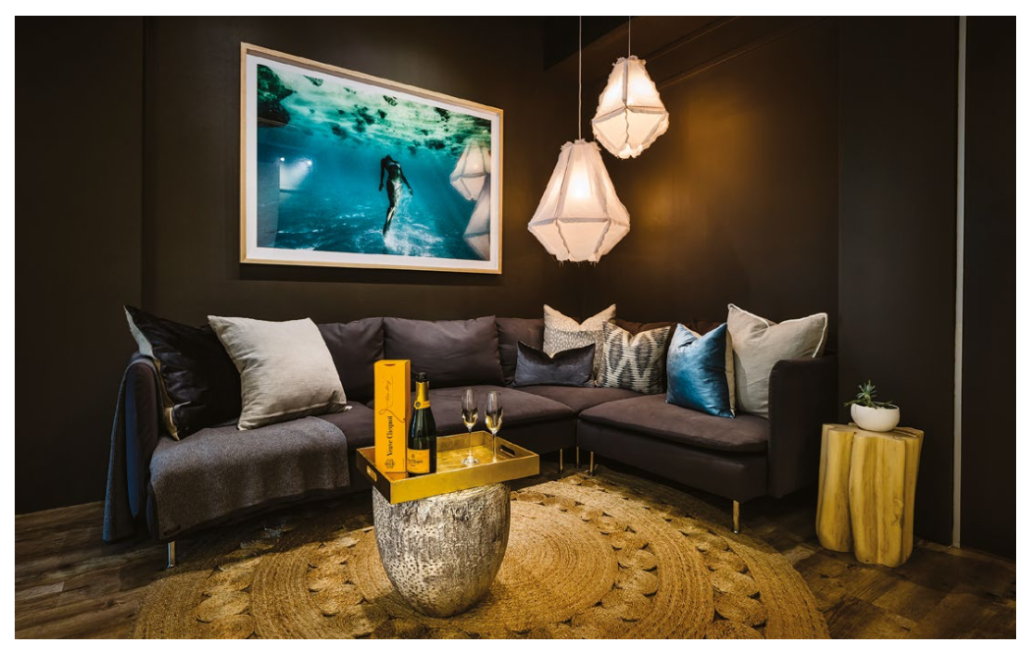 Any simple tips for salons to refresh their look on a budget?
A lick of paint, some plants and some cushions work wonders and I'm a lover of fresh flowers and scented candles to create atmosphere, if you go for longer lasting floral varieties it's a bit better on the budget.
What is your secret to creating the perfect glow?
I believe all bodies are beautiful, we all have one! Rock what you got with confidence. I believe in the inner glow first – you must work on that one and we work on the outside for an uplift. I think about it in terms of self care, with some small tweaks you exude confidence. That's what I want for everyone to be happy and confident.
What do you love most about the tanning industry?
The Australian tanning industry is the best in the world, no other country comes close to the innovation and colour results. It's so popular here and we have been able to tweak it over the last 20 years going from the old 8-10hr tan that smelt to odour free, nasty free to 1hr wash offs. I love my job.
This article first appeared in the September/October issue of Professional Beauty magazine. Download the issue here.
Visit the #BEAUTYSTRONG hub at https://professionalbeauty.go-vip.net/beautystrong/
For more news and updates, subscribe to our weekly newsletter.