Biomimetics as an idea that was introduced to skincare several years back, but it's taken the creator of SkinDNA® and decades of original research in genetics, skin ageing and ingredients, to create new Australian-made biomimetic skincare range BIOMIMIC™. Stefan Mazy, SkinDNA® founder, says he created the range to "provide and easy-to-use and targeted solution to address the 5 main skin ageing pathways in order to help each and every individual worldwide preserve a more youthful looking skin." Parent company SkinDNA® has analysed over 2,000,000 DNA profiles to identify unique skincare fingerprints and now has the skincare products with which its clients can create a simple routine specific to their very genetic blueprint. We recently asked Mazy about the launch of BIOMIMIC™ and what this advanced DNA blueprinting and the science of biomimetics could bring to the field of skincare.
PB: Why did you launch BIOMIMIC Skincare?
"Having spent many years researching the role of genetics on skin health and aging, I launched the SkinDNA® genetic test in 2008. SkinDNA® has over the last 12 years, analysed 2,000,000 DNA profiles to better understand the role of genetics in the way in which we age, providing individuals with algorithm-based, personalised recommendations on the most ideal ingredients, supplements and professional treatments based on their unique genetic makeup.
The launch of BIOMIMIC™ Skincare was a natural evolution of this, enabling those who are looking for a more bespoke approach to skincare to have access to a range designed based on the insights of years of genetic insights and understanding of the causes, triggers and signs of aging. Using these insights, the range was developed in line with the key skin functions we identified over this period as being the major triggers of ageing.
Cruelty free, paraben free, and Australian made, the products in the range are lightweight and designed to be layered. Each product boasts a carefully selected potent active ingredient of the highest quality, blended at the right concentration to trigger cellular activity for improved skin health, and a youthful glow."
PB: What makes BIOMIMIC™ skincare different from other science-backed ranges?
"Unlike other skincare brands BIOMIMIC™ is the first brand of its kind backed by 12 years of genetic data collected from all around the world. The result is a range that helps target the most commonly identified skin genetic-ageing conditions, while having the formulations themselves be based on the fundamentals of Biomimicry science (bio, meaning life, and mimicry meaning copy) to mimic the nutrients found in youthful, glowing skin.
Because we are all different, BIOMIMIC™ products are designed to be layered and to be mixed and matched. Our range is developed with different ingredient combinations shown to mimic cell function from plant extracts such as kombucha, cucumber, algae and bearberry, and a wide range of phytochemicals, antioxidants, peptides, and mild, skin-friendly acids. Each ingredient combination not only nourishes and protects but also repairs the skin, helping to fight the signs of ageing, keeping users looking youthful for longer. Being lightweight and non-greasy our products are also designed to be applied under makeup."
PB: How does the range works in tandem with the SkinDNA® test?
"Complementary to SkinDNA®, BIOMIMIC™ Skincare is available to purchase independently via the BIOMIMIC™ website. Products can also be purchased as part of the SkinDNA® experience, where specific BIOMIMIC™ products are recommended as part of your SkinDNA® report, identifying which key ageing issues are specific to your unique genetic composition and hereditary predispositions. We have had thousands of Australians already take their SkinDNA® test and apply the recommendation algorithms to align with products that are best suited for them. With the integration of BIOMIMIC™, our algorithms can help direct you to your personalised BIOMIMIC™ program.
The best part is SkinDNA® technology represents 70% of all DNA skin tests globally and is regarded as the leading, non-biased skin test. We have worked with more than a dozen skincare companies integrating our analytics and guiding customers on their age prevention journey.
SkinDNA® does not receive any revenue from skincare companies, this means that we are not in the game of pushing products that you don't need. The SkinDNA® test is the tool that can help you better understand the BIOMIMIC™ products best for you."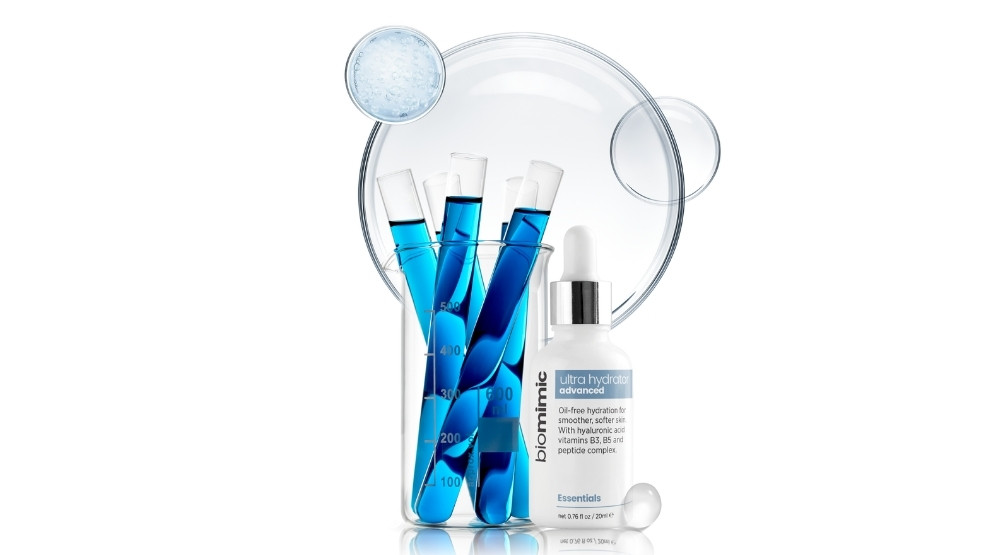 PB: Who is it best for? What are the benefits of using it?
"BIOMIMIC™ is suitable for everyone – regardless of age or gender! Whether your skin health gripe is hyperpigmentation, hydration or redness, each product in the range is designed and formulated to actively target a specific skin condition which, through my years of research and analysis of SkinDNA® profiles, I have discovered are the leading causes of aging. If you have multiple skin health concerns, the products are easily layered, leaving your skin soft and supple, without that greasy after-application."
PB: What are its sustainability credentials?
"Developing a brand that is based on mimicking nature, sustainability has been a major focus for us. Firstly, our products are cruelty free; we will not test on animals. Our formulations are paraben free and to avoid preservatives our products are manufactured in small batches with an average of 3-month shelf life. This ensures that all active ingredients will remain potent without having to rely on a lot of nasty chemicals to have the products last longer once open.
Our boxes are recyclable, and we avoid plastic wherever possible, with glass bottle packaging for all products in the range.
Lastly, while it's one thing to say products are recyclable, natural or organic there remains an environmental cost of actually making the box and getting these ingredients in the first place. These environmental footprints cannot be avoided but we can compensate by offsetting our footprint and give back to the environment.
As such, we have measured our environmental footprint and are pleased to say that BIOMIMIC™ Skincare is on the verge to being carbon neutral. Meaning once we factor the amount of energy (carbon emission) required to make the ingredients, to make the boxes, dispatch the goods, we compensate this by purchasing carbon credits which go toward reforestation and creating clean oxygen."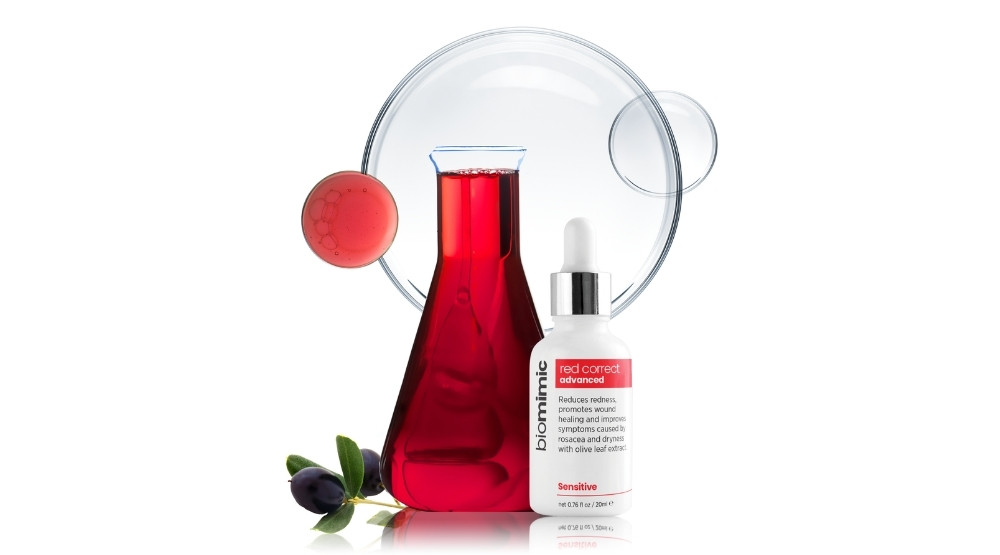 THE RANGE
BIOMIMIC™ Eye Firm, 20ml, RRP $69 | Key ingredients: Hyaluronic Acid, l'Ascorbic Acid 5%, Ferulic Acid, Algae Extract
BIOMIMIC™ Ultra Hydrator Advanced, 20ml, RRP $69 | Key ingredients: Hyaluronic Acid, Vitamin B3, Vitamin B5, Peptide Complex
BIOMIMIC™ Retinol + Aloe Booster, 20ml, $69 | Key ingredients: Vitamin A, Vitamin E, Aloe Vera Ceramides
BIOMIMIC™ Anti-Glycation Complex Booster, 20ml, RRP $69 | Key ingredients: Hyaluronic Acid, Lactic Acid, Glycolic Acid, Kombucha Extract
BIOMIMIC™ Vitamin C + Ferulic Acid Booster, 20ml, RRP $69 | Key Ingredients: L-Asorbic Acid 15%, Ferulic Acid, Vitamin E
BIOMIMIC™ Vitamin C + Phloretin Booster, 20ml, RRP $69 | Key ingredients: L-Ascorbic Acid 15%, Ferulic Acid, Phloretiin
BIOMIMIC™ Peptide AOX Booster, 20ml, RRP $69 | Key ingredients: Copper peptides, Matrixyl 3000, Ceramides, Hyaluronic Acid
BIOMIMIC™ Red Correct Advanced Booster, 20ml, RRP $69 | Key ingredients: L-Ascorbic Acid 15%, Ferulic Acid, Vitamin E
About BIOMIMIC™ Skincare:
Based on the science of Biomimicry, (mimicking elements of nature to solve human problems,) the range supports 12 skin functions responsible for ageing, each of which are detailed within a SkinDNA® report. BIOMIMIC™ serums include Essentials as well as Boosters. These are made from a wide range of phytochemicals, antioxidants, peptides, and mild, skin-friendly acids.
About SkinDNA®:
Founded in 2008 by leading skin expert, Stefan Mazy, SkinDNA® is an Australian genomics company leading the industry in research and scientific advancement in predictive skin ageing and clinical product offering. SkinDNA® offers beauty seekers a unique insight into the science and genetic predispositions of their DNA, starting with a simple DNA test, taken from a swab from the inside of the cheek. SkinDNA® is globally recognised for pioneering the largest derma genetics database, boasting over 2 million DNA profiles, with this number growing weekly. SkinDNA® is also responsible for powering more than 70 per cent of the world's DNA skin health tests for major cosmetic and skincare brands, including Rationale and O Cosmetics.
Find out more at biomimicskincare.com.
—
Read the current issue of our digital magazine here:
For more news and updates, subscribe to our weekly newsletter.
—
Have an idea for a story or want to see a topic covered on our site and in our pages? Get in touch at info@professionalbeauty.com.au.