While October's ubiquitous Pink Ribbons have been put away for another year, breast cancer is never far from the hearts and minds of women battling the disease – or its survivors.  Leslie Syron, a US-based aesthetician, shares her story of how her diagnosis and treatment (by the beauty industry) has impacted her life.
"After working in different facets of the beauty industry for 20 years I went 'back to school' five years ago to study aesthetics and then after three years working as an aesthetician was given the opportunity to open my own studio….
I was delighted. Everything was finally happening.  My business was booming and my home life couldn't have been better – until I had a mammogram.
My whole world changed in a matter of minutes.
When a doctor came into the room and explained that I needed more tests and handed me a referral to a breast surgeon, I couldn't even breathe.
After a few more tests I heard those dreaded words 'You have cancer'. I have never felt so alone. I cried uncontrollably.
I was diagnosed with Stage 3 breast cancer that had already spread to my lymph nodes.
It's now two years later and I still can't believe cancer came into my world and turned it upside down when I was just 47.
After completing all my medical treatments (including a full mastectomy and reconstruction, chemotherapy, radiation and five surgeries to fix a hospital-acquired infection) I decided it was important for me to help others with the deadly disease.
I completed an oncology aesthetics course and couldn't wait to finally get back to work doing what I loved ‒ being an aesthetician.
However, I quickly realised that the mobility issues with my left arm (caused by my surgeries) was making my plans to return to work as an aesthetician look bleak.
Nonetheless as I had 20 years of expertise in the beauty industry, I might be able to be find employment as a salon or spa manager, trainer and/or social media manager
I had never really had a problem finding a job and didn't think this time would be any different, so I was very confident.
It was time to write my resume….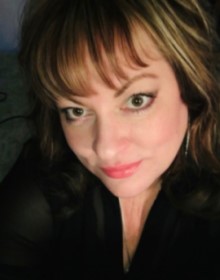 Apart from listing my qualifications and experience, I also attached on my cancer diagnosis (An Aesthetician's Long Walk" that I had written for Skin Inc, a popular industry magazine.
I got called to a few interviews but there was something different about them compared to all the previous interviews I had been to over the years.
The new interviews didn't revolve around my skills or my past experiences.
Instead, they were focusing on my past health issues and how it might negatively impact their business.
I was getting asked questions like 'Do you still have a lot of Doctors' appointments? Are there still things you need to do for cancer? Will you be taking a lot of time off?'
I was beside myself. They were so focussing on my past health issues that they couldn't seeall the great things I could bring to the table.
I am currently trying to get my life back and don't have any more doctors' appointments than the average person, but they treated me like I was contagious.
After completing the interviews, I received a rejection email explaining that the spa was looking for someone that could work more hours even though I had told them that I was available for the hours that they shared in the job description.
I then received more rejection emails.
It seems that same salons and spas that will advertise with Pink Ribbons in October and call women like me 'warriors' won't hire me because I had breast cancer.
At first, I was upset by all these rejections but now I know I wasn't meant to be around such small-minded people.
I have always dreamt big. I was lucky to have a lot of my dreams come true and it looks like I have a lot more dreams to bring to life.
I am strong because when someone tells me I can't do something in life it makes me fight harder.
I just want everyone to remember breast cancer patients and survivors every month of the year ‒ not just in October.
I want salon and spa owners and managers to treat them like they would any other job applicant.
There is no room for ugliness and prejudice in any industry – especially the beauty industry which is full of women.
Being diagnosed with cancer and undergoing treatment isn't easy so if you have someone in front of you who is a survivor always remember they have fought harder than you could imagine.
You should be honoured this warrior is interested in working with you.
They beat cancer. They can accomplish anything they put their mind too – and will be an asset for you, your salon/spa and your clients."
For more news and updates, subscribe to our weekly newsletter.