BABOR makeup has a long history, with handmade lipsticks and face powders launching in 1974. And even then the tenents of the brand were to create colour cosmetics that didn't just deposit pigment but had a nourishing benefit to the skin too, not until the current shift in cosmetics we see taking place industry wide right now with skincare-grade makeup becoming the norm and what customers expect. The brand says of its reimagining of the range that this "Next generation of makeup will be even more natural, hybrid and as clean as possible without losing the benefits of a state-of-the-art makeup. This is the challenge."
In the revamping of its makeup offering, BABOR aims to introduce a makeup range that fits seamlessly into the high-end retail at skincare salons with product testers intuitively designed and arranged for easy understanding of the products and seemless transition to purchase.
Professional Beauty chatted with the team to find out what's changed, why it's better and what it means for the Australian beauty salon and salon clientele.
PB: What is the history of BABOR makeup in Australia?
"BABOR is synonymous with MORE beauty performance, MORE visible results. Sustainable. Professional. With decades of makeup transformation within Australia, BABOR MAKEUP is timeless, constantly staying on top of new ingredients, techniques and innovations. With an R&D Team at the German headquarters, the focus is on persistently innovating and delivering on the brand promise: Ask4more
During BABOR's time in Australia, there have been 4 generations of makeup collections over a span of 20 years, each line having unique point of difference. Our newest BABOR MAKEUP Collection is due to launch in September 2021, being one of the first brands to infuse skincare and makeup in one innovative product.
What makes them stand out? Professional makeup meets miraculous active ingredients! The unique BABOR liquid foundations contain powerful active ingredients from the iconic BABOR Ampoule Concentrates that mattify, moisturize or reduce wrinkles, depending on the skin's needs."
PB: Which came first? Skincare or makeup?
"Skincare! This year we're celebrating our 65th birthday! And 65 years ago Dr. Michael Babor developed the legendary HY-ÖL. The hydrophilic oil, HY-ÖL, which is applied to dry skin (do not moisten beforehand), removes oil-soluble particles, thanks to the Quillaja saponaria bark extract that acts like a dirt magnet. In combination with the phytoactive and adding water, the oil becomes a milky emulsion, which also removes water-soluble dirt, and at the same time moisturizes and conditions the skin."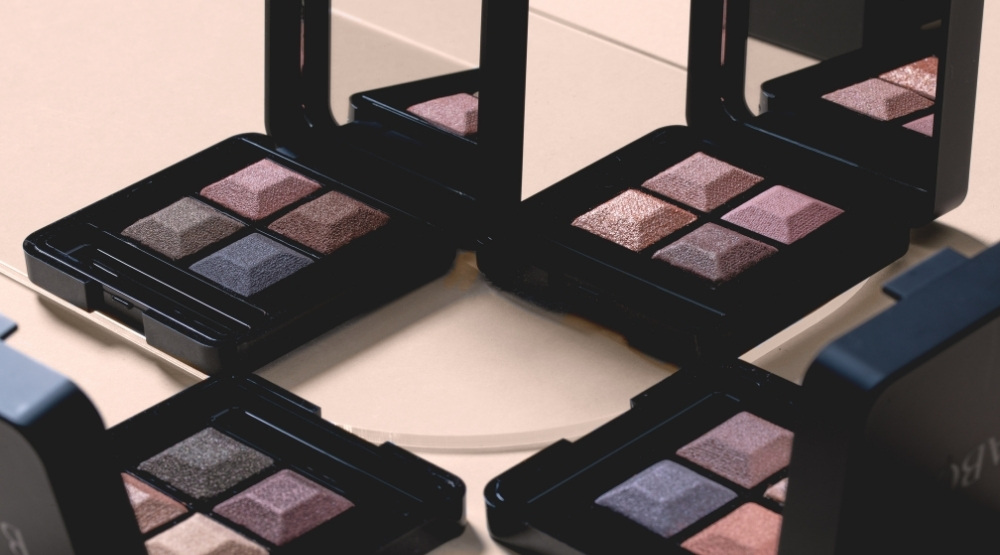 PB: Why the relaunch?
"We relaunched our makeup because we want MORE: MORE skincare, MORE performance and individuality. Our Customers always ask for more! Our foundations are available in multiple shades to fit even MORE skin tones.
The new makeup line is 95% vegan. To be 100% vegan by end of 2022. Formulations have been challenged to offer a MORE to the customer. MORE in terms of luminous, radiant and lightweight textures combined with special treated pigments for a uniform and natural, yet perfected, finish. A lot of products have buildable coverage so the consumer can play with it and decide how to wear the product. This may change from day to day and, of course, also depends on the occasion. The packaging is matched to the formulas to offer the best quality and benefit. The key colours of the packaging are beige and black with shiny and matte accents and just a hint of gold to give it a kind of luxurious touch. By using more transparent packaging, the colours are more visible and attractive."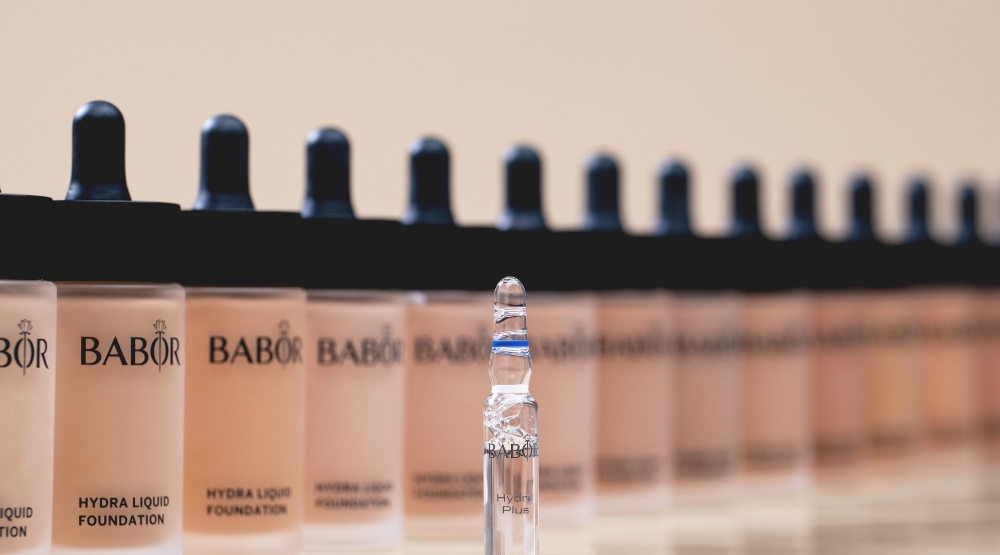 PB: What is new in the foundations?
"Professional makeup meets miraculous ampoule! The combination of the iconic BABOR Ampoule Concentrates and professional makeup creates a perfect symbiosis of skincare and makeup. The assortment offers a wide selection of textures and finishes. What makes beauty's heart beat faster: Impressive foundations with nourishing properties for a radiant complexion and an extensive selection of shades. This means that there is a suitable shade for every skin type.
BABOR has developed innovative foundation formulas which include the powerful active ingredients of the famous BABOR Ampoule Concentrates. This makes our foundations, tinted moisturizer and concealers really unique. In the new line you'll find liquid and cream foundations being the perfect match to Ampoule Concentrates Hydra Plus, 3D Firming, Collagen Booster and Matte Finish. This makes it even easier for the customers to explain and give advice to the consumer."
PB: What makes the makeup different from other professional makeup brands?
"BABOR makeup is different to other makeup brands because our foundations combine intensive care, a wide selection of textures and finishes, a wide range of shades as well as the high performance of our BABOR ampoules."
PB: Tell us a bit about the formulations and the packaging?
"The unique BABOR foundations contain powerful active ingredients from the iconic BABOR Ampoule Concentrates that mattify, moisturize, or reduce wrinkles, depending on the skin's needs. All foundations and complexion products are presented in a delicate nude packaging.
At BABOR we are also constantly working to use more and more recyclable materials and our aim is to adopt this with the makeup line as well. We don't use aluminium foils or PET for the cartons, and we do not wrap the products in cellophane. By doing so we save more than 1 ton of plastic."
PB: How will it fit in salons?
"For our makeup relaunch, we also created a special presenter to enhance our new collection. The make-up is well received in the salons because the new makeup collection comes with the matching tester display that can do MORE. The new, larger display is distinguished by its intuitive separation by facial areas, which makes it easier for customers to select products."
PB: How will makeup artists be able to access it?
"Artists are welcome to try our makeup and can order directly via our HQ. They can use our makeup for various purposes due to different textures, finishes and shades as well as the combination our products for a total look!"
PB: What sort of support will the brand offer pro MUAs?
"At BABOR we focus on education as a key master to supporting Pro MUAs.
We are true to our motto "ask for more". BABOR presents revolutionary makeup that can do MORE. We believe that with the new innovative hybrid foundations that combine intensive care and performance to produce a perfect complexion suitable for all skin types makes its ideal product for MUA's! Being new to the market, we know MUA's will embrace and enjoy the formulations for them and their clients.
A wide range of textures and colours of hybrid liquid foundations offers every skin type a unique solution, thanks to the perfect fusion of the ampoule skincare power and makeup. There is a suitable shade for every skin type. The miraculous foundations are complemented by a whole range of other products for the perfect look. There are step-by-step instructions on how to apply the beautiful signature makeup with BABOR and transform it into a breathtaking glamor look in the evening."
PB: Does it have any sustainability credentials?
"We at BABOR believe in a green and sustainable future. Therefore out Green Agenda is super important for us! For our products we no longer use cellophane for the packaging. The whole BABOR company has been climate neutral since 2020. Together with ClimatePartner, BABOR has made a detailed calculation of its carbon footprint and implements its own measures to offset all emissions that the company cannot yet prevent. All new formulations will be developed without microplastics or synthetic polymers. Regarding our products and their formulations, I can say that by 2023, current formulations will be adapted to alternative formulations as part of relaunch activities wherever possible."
PB: What are the plans for the brand in terms of rollout? Future launches?
"For our makeup we will continue the launch of two special trends/colour looks a year: One for spring/summer, one for autumn/winter. For our brand and our various products, we plan several relaunches as well as new product designs and will focus on our Green Agenda!"
PB: Where will it be available in Australia?
"Our new BABOR MAKEUP will be available at selected BABOR Spa Partners and online:
SPA locator: https://au.babor.com/merchants/search and Online: www.babor.com.au."
—
Read the current issue of our digital magazine here:
Have an idea for a story or want to see a topic covered on our site and in our pages? Get in touch at info@professionalbeauty.com.au.