Skin Virtue is an Australian owned brand and the brainchild of founder, Nina Gajic who spent years struggling with the effects of the Australian climate and lifestyle on her skin. As a result of her skin struggles, Nina devoted decades to clinical medical research and studied formulation science which led to the development of Skin Virtue, an innovative skincare range that has mastered the synergy of science and nature.
"My experience with skin allergies and sensitivity was a long and hard journey, ultimately I started Skin Virtue to address my own skin concerns. Twelve years ago, I opened up a clinic in Eastern Europe where I worked with our team of board-certified dermatologists and plastic surgeons to address cosmetic procedures and skin sensitivity as well as developing aftercare for patients to take home. Skin Virtue evolved naturally during this time," said Nina.
Skin Virtue is renowned for providing performance-based solutions that deliver dramatic results. Designed for sensitive, allergic and irritated skin, Skin Virtue focuses on solving environmental, physiological and age-related skin concerns.
Harnessing the most potent natural active ingredients with cutting-edge skin science, Skin Virtue is able to deliver maximum efficacy and visible results. The range contains a complex of vitamins, minerals, antioxidants and soothing marine and botanical extracts that are clinically tested and scientifically proven. Formulated with a proprietary blend of skin identical active biotechnological ingredients, plant derived molecules, marine enzymes, plant stem cells, vitamins and gentle skin identical emulsifiers Skin Virtue products also utilise active liposome and ionosome delivery systems to optimise efficacy and penetration of these active ingredients.
The focus of the Skin Virtue range is to help heal sensitive, problematic, irritated and allergic skin.
"Our formulations were developed first and foremost to help protect the skin and it's barrier function. When the skin barrier function is compromised it leads to sensitivity and irritation, which is a major and growing concern for many people these days. By helping to support the physiological processes and the functionality of skin we are able to activate its natural healing, repairing and regenerating process and reduce sensitivity. Secondly, we focus on maintaining our skin's optimum condition to delay the signs of intrinsic skin ageing. We then focus on targeted age related treatments where we zero in on skin ageing concerns to minimise and in some cases help prevent the visible effects of ageing on the skin," said Nina.
Skin Virtue products are non-comedogenic, anti-irritating, anti-allergen and formulated without parabens or mineral oils.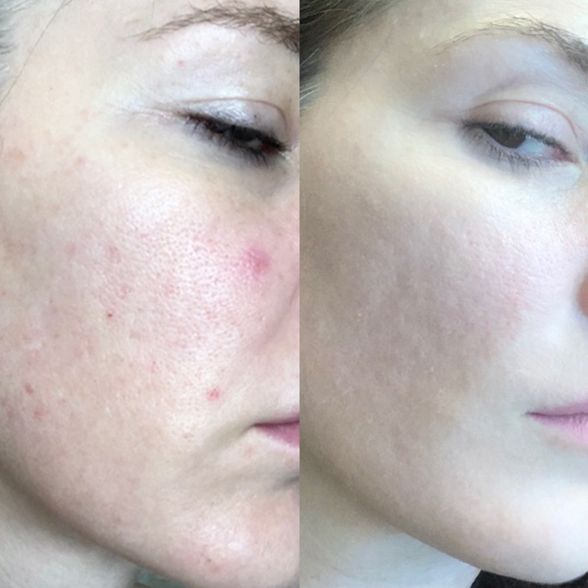 The range features three premium collections:
The Super Clear Collection – developed with the highest quality purifying and soothing active ingredients, targets skin complications such as skin sensitivity, blemish prone, oily, irritated, inflamed and allergic skin.
The Pure Anti-Ageing Collection – developed to improve the quality and condition of skin, the Pure Anti-Ageing Collections is formulated to help prevent and correct early signs of ageing to prolong younger-looking skin.
The Future Advanced Collection – Skin Virtue's most concentrated collection featuring targeted anti-ageing technologies to help prevent and correct advanced skin ageing. The Future Advanced Collection can also be used in conjunction with both the Super Clear Collection and Pure Anti-Ageing Collection as a booster for specific concerns.
"I focused on developing a range that is simple to use yet multifunctional and effective. This allowed for the range to be smaller in size in comparison to many other brands which also makes it easier to choose the correct product for specific skin types and concerns," said Nina.
To find out more, or to become a stockist, click here.