SAVE 20% off RRP of individual products when you purchase the RefectoCil Basic Starter Kit!
The RefectoCil Basic Starter Kit contains everything needed for classic lash and brow tints. Designed for mobile therapists and beauty students, the all-inclusive kit is a perfect introduction into the RefectoCil world of lash & brow styling.
RefectoCil Basic Starter Kit features the new RefectoCil clip-on Browista Palette and Tool Kit for ultra precise application and easier mixing. Also included is the RefectoCil Style book, filled with inspiration and tips to achieving current styles. Tinting has never been easier!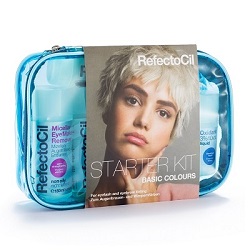 This kit contains:
• RefectoCil Black Tint 15g
• RefectoCil Blue/Black Tint 15g
• RefectoCil Graphite Tint 15g
• RefectoCil Natural Brown Tint 15g
• RefectoCil Light Brown Tint 15g
• RefectoCil Chestnut Tint 15g
• RefectoCil Oxidant Liquid 3%100ml
• RefectoCil Tint Remover 150ml
• RefectoCil Micellar Eye Makeup Remover (Non Oily) 150ml
• NEW RefectoCil Browista Palette & Toolkit including two double ended brushes with silicone spoolie
• RefectoCil EXTRA Eye protection Papers 80pkt
• Skin Protection Cream & Eye Mask 75ml
• RefectoCil Style Book including current trends & tips for lash & brow styling For more information on RefectoCil products, visit https://refectocil-australia.com.au/products/