This hydrating eye serum minimizes the look of dark circles, fine lines and wrinkles over time. The cooling rollerball massages with anti-inflammatory caffeine to increase blood circulation and instantly depuff for a smoother, brighter under-eye.
Using the eye-safe and natural retinol alternative Bakuchiol, the treatment brightens hyperpigmentation and reduces the look of crow's feet with a gentle improvement of cell turnover and stimulation of collagen turnover. Neurophroline, an anti-stress peptide, is derived from wild indigo to help break down cortisol production by skin cells and activate a natural calming neuropeptide to visibly improve skin tone.
Suitable for all skin types, especially for those with dark circles, hyperpigmentation, puffiness, crow's feet and ageing skin around the eye area.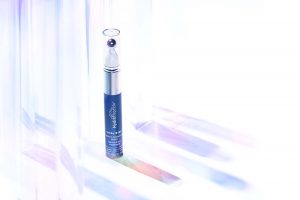 Benefits:
Helps to reduce the appearance of fine lines and wrinkles
Brightens under eye circles
Diminishes hyperpigmentation on the eye area
Reduces puffiness
How to Use: Twist the bottom to apportion product and gently roll on the eye area until absorbed. Can be used in the AM or PM.
www.blccosmetics.com | customerservice@blccosmetics.com | +61 2 8667 4695
HydroPeptide is exclusively distributed in Australia and New Zealand by BLC Cosmetics Pty Ltd.