A combination of genetics and lifestyle determine each person's unique skin needs, and mesoestetic's age element system uses customisation and the most recent scientific advances in a unique anti-ageing treatment formulated with epigenetic active ingredients to support these needs.
About personalisation:
age element brand manager Elisenda Valls says "each skin is unique, and that's why technological innovation and scientific advances are changing the sector of anti-ageing treatments, marking the beginning of a new era: customised solutions. age element by mesoestetic is a 100% customised treatment, making it suitable for all ages and skin types. The customisation is so relevant because it provides maximum results, increases treatment adherence and builds unique experiences in each session."
Used in combination, shikimic acid, maslinic acid and isoquercetin combat ageing from its origins by making cell act younger (i.e.g with better "regenerating and proliferating activity"). The also correct the visible signs of ageing, making the skin brighter, firmer and giving it a more visibly younger appearance. Shikimic acid (for "cell longevity and DNA protection"), maslinic acid (for moisture, firmness and redensification) and isoquercetin (antioxidant) work in tandem to achieve these results via the meso[epigen] system™.
"Epigenetics is the innovative component of this treatment. Through these epigenetic active ingredients we ensure the efficacy of the treatment in all its phases," says Dr. Alfredo Martínez, Director of mesoestetic's Biotechnology Unit.
"Environmental conditions, experiences and lifestyle are the main activators of epigenetic mechanisms, while also promoting and accelerating visible signs of ageing," says Valls. "The latest scientific advances are designed to act on these epigenetic changes and re-synchronise the natural processes of skin protection and repair. age element is formulated with 3 epigenetic active ingredients, helping combat ageing from its origin. It works by modulating epigenetic mechanisms to help recover the regenerating and proliferating activity of the skin, helping to minimise visible signs of ageing, providing a firmer, brighter and younger-looking skin."
HOW DOES IT WORK?
age element allows the professional to design a 100% customised protocol from an exclusive diagnostic tool which adapts the protocol to each individual patient. It is the first treatment with an application designed exclusively by mesoestetic that analyses the variables involved in the skin ageing process and defines the most appropriate treatment for each patient. It contains four unique boosters, designed to be used in combination, based on the needs of each client. This customisation provides maximum results, encourages commitment to the treatment and allows the therapist to build unique experiences in each session. All these stages act synergistically for the purpose of achieving maximum treatment efficacy.
The age element diagnosis system™ has been developed as a support tool for the professional, as it analyses skin needs, lifestyle and conditions that the client wants to treat, alongside identifying the epigenetic variables that can affect the ageing process, for each individual.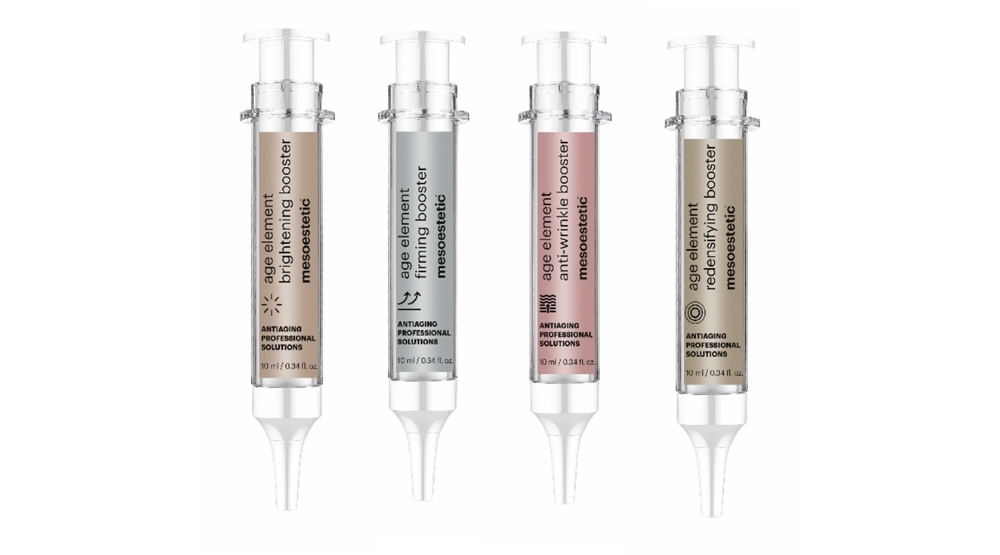 THE BOOSTERS
age element brightening booster is a brightening and revitalising concentrate to help combat the first visible signs of chronological and photo-ageing.
age element firming booster is a firming concentrate with lifting effect, indicated to help combat facial sagging and redefine facial contour.
age element anti-wrinkle booster is a multicorrector with anti-wrinkle action. Smoothes the skin surface, helping reduce wrinkles and expression lines.
age element redensifying booster is a concentrate with redensifying and nourishing action, that helps improve elasticity and suppleness.
mesoestetic age element launched 20 April 2021, and will be introduced to existing mesoestetic clinics. New spas/clinics interested in incoporating the brand into their offering are welcome to use the age element system.
CONTACT DETAILS
Contact details for enquiries are Advanced Cosmeceuticals 1800 242 011, www.advancedcosmeceuticals.com.au.