Pioneering the beauty industry with their evidence-based approach to skincare formulations, ESK – Evidence Skincare has introduced two varying strengths of retinal-based evening face serums: Ultimate A (0.06%) and Ultimate A+ (0.1%).
Retinal is the third stage in the retinoic acid conversion process and performs closest to prescription retinoic acid at combatting the physical signs of ageing. Converted by specialist enzymes that exist within the skin, retinal is more effective that any other form of non-prescription vitamin A, and is considered to be on par with prescription-grade Vitamin A.
Combining glycolic acid, an alpha-hydroxy acid, to enhance the bioavailability of the retinal and improve skin exfoliation for increased cell turnover, Ultimate A and Ultimate A+ also contain vitamin B3 (niacinamide) to help visibly improve the appearance of enlarged pores, even skin tone, remedy skin dullness, and improve skin barrier function by strengthening the epidermal surface from future environmental assault.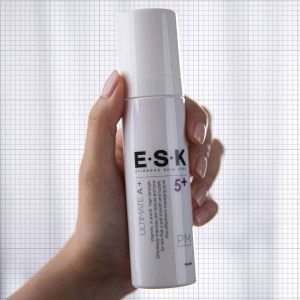 "We developed Ultimate A and Ultimate A+ using the strongest peer-reviewed evidence available," said co-founder of ESK – Evidence Skincare, Dr. Ginni Mansberg of the cosmeceuticals. "With many consumers uncertain of the retinoic acid conversion process and subject to an endless flood of marketing hype, we wanted to cut through all the beauty babble and create two cosmeceutical-grade serums that not only deliver on results, but are universally suited to a range of skin types and conditions."
Formulated for evening use, Ultimate A and Ultimate A+ is tailored to young and mature skin alike, including those prone to sensitivity, and should be used in conjunction with an SPF during daylight hours to protect skin cells from UV-induced trauma. As with all forms of topical vitamin A, it is recommended that neither product be used by pregnant women or breastfeeding mothers.
ESK – Evidence Skincare was founded in 2012 by husband and wife team, Daniel Rubinstein and Dr. Ginni Mansberg, and employs the expertise of Australian doctors, dermatologists and scientists to formulate their extensive range of locally-made cosmeceutical-grade skincare.
For more news and updates, subscribe to our weekly newsletter.