Founder of the Nutritional Skincare Academy Chiza Westcarr talks about empowering skin  specialists.
What does it mean to you to be an educator?
Great question! It is an absolute honour to be in a position to be able to empower and really change lives.
I have been imparting knowledge to skin specialists in both the beauty and medical aesthetics arenas since the year 2000. I created the Nutritional Skincare Academy in 2017 to fill a recognised need within the Industry. Skin Therapists completing their education, are not typically taught about the link between nutrition and optimal skin health. My goal is to remedy this through the education that the Nutritional Skincare Academy offers. I am on a mission to provide easily accessible education that empowers Skin Therapists across the globe to adopt a more holistic approach when it comes to addressing skin concerns. By taking an inside-out approach, and considering the impact of both diet and lifestyle on skin health, alongside product and treatment recommendations, the chances of successfully resolving client concerns increase exponentially. The Skin Therapists' confidence is not only boosted, but long lasting relationships are formed. My courses highlight the importance of building rapport and trust between client and Skin Therapist. Achieving results fosters long term client loyalty, which translates to long term profitability for the Clinic.
Outline the highlights of your education program for the year 2020?
My program for 2020 is going to be better than ever! I will be offering new classes and also taking my nutrition-focused education States-side. In July I will be presenting at The Skin Games in Palm Springs.
I have listened to the numerous requests, and will now be offering pre-recorded online classes, along with my 'lives', allowing those who are interested, to be able to watch them on demand.
Upcoming classes include: Link Between Nutrition and Optimal Skin Health (available live and pre-recorded), and Hormones and the Skin (available live and pre-recorded).
As a support to Skin Therapists and clinics, I now also offer customised skin condition-specific meal plans that eliminate inflammatory foods from the client's diet, and provide them with healthy, nourishing options. The clinic's details appear on each plan, along with a message from myself, explaining to the client that the plan has been created by a skin-focused Nutritionist especially for them. This I strongly believe, will perfectly compliment product recommendations and treatment plans created for each client.
There are additional classes in the pipeline and the Nutritional Skincare Academy's social media pages will also host regular 'lives' this year. Course dates will be up on the website in January.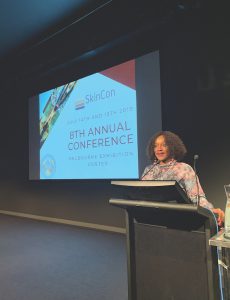 What is the biggest challenge when it comes to education?
One challenge I would say is accessing credible and relevant industry-related education. There are more courses available now than ever before, and these are not always presented by a qualified trainer, with a lot of mis-information being dished up as factual. It is important to do your due diligence.
Also, not every Skin Therapist has the desire nor ability to undertake a university degree to further their education, and while they would love to keep learning, dedicating that kind of time to study is a not an option. Short courses, delivered both face to face, and online, offering bite sized chunks of information that can be readily transferred to the clinic environment, are gaining wide appeal for this reason. Online education has been the biggest game changer in our industry as it allows for greater accessibility, and a more flexible learning style. I have people signing up for my courses as far afield as Qatar, the USA and the United Kingdom!
How important is it for members of the beauty industry to stay updated and further their education?
I think it is key to remaining relevant and building a loyal customer base. Clients are hungry for what's new, exciting and going to make a difference to their experience. They are also a lot more educated and savvy, thanks to Dr Google, and expect their skin specialist to know more than they do and be able to answer all their questions.
I think furthering one's education establishes the skin specialist as the expert, and with more courses available than ever before in a variety of formats.
FAST FACTS
Training Accreditation
I have a Cert IV in Training and Assessment
Industry related qualifications
CIDESCO, ITEC (Hons), CIBTAC beauty therapy qualifications, a Bachelor of Business Studies, a Bachelor of Health Sciences (Clinical Dermal Therapies), Masters Degree in Human Nutrition and an Advanced Diploma in Nutritional Medicine.
Years in Industry
1996 – present
Educational area of specialty
Skin Science and Nutrition
What I love most about what I do
I love that I get to do it all!
Working in clinical practice as both a Dermal Clinician and Nutritionist, I am able to put what I have learnt in all my years of study into practice, obtain results and then share them with skin specialists from all over the globe!
Chiza Westcarr is the founder of The Nutritional Skincare Academy.
www.nutritionalskincareacademy.com
For more news and updates, subscribe to our weekly newsletter.