Still wrapping your head around year-old Clubhouse and whether you need this drop-in, audio app to reach clients on social? Wait, there's more. Over the next few months Facebook will be testing and launching its own audio creation and publishing tools, so now might be the time to learn about whether you need audio in your social mix.
For those still unfamiliar with Clubhouse, Business Victoria says "Like other social platforms, you get started by completing a profile with searchable keywords that relate to your business. Then you add interests or topics that relate to your business…. In a room, the host gets to decide who can speak. Interested users raise their hands to speak on a virtual microphone…. Clubhouse rooms are audio-only, happen in real-time, and there is no way to record within the platform itself.."
What is a Soundbite?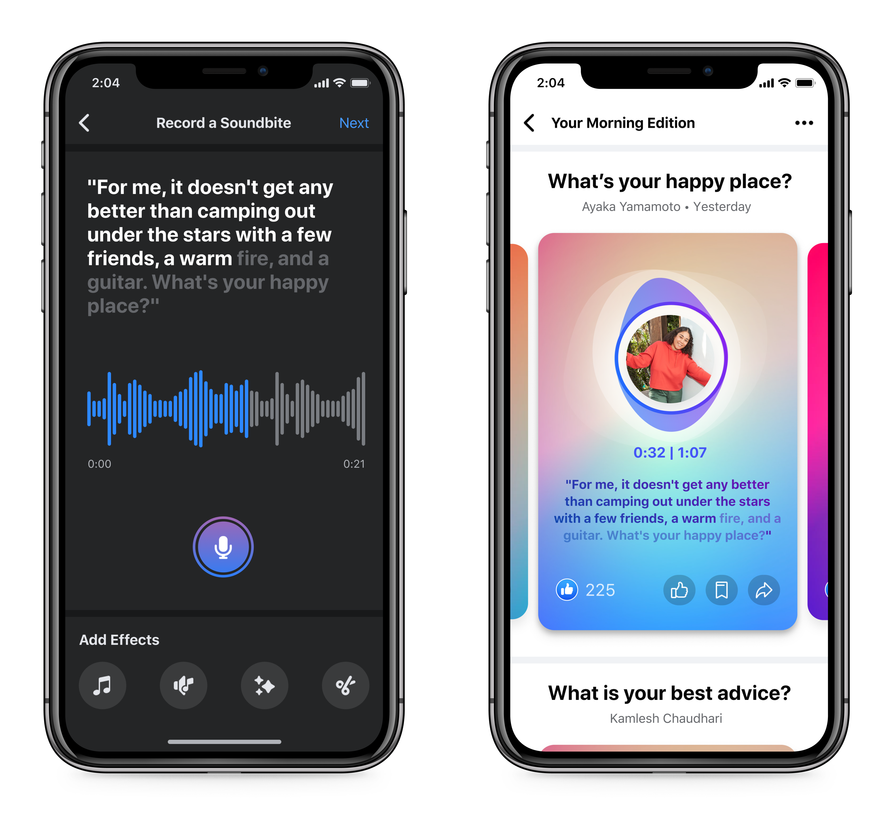 Facebook is still testing their offering so we can't try it out just yet, but the company says their "audio creation tools will enable you to create Soundbites — short-form, creative audio clips for capturing anecdotes, jokes, moments of inspiration, poems, and many other things we haven't yet imagined. We'll start testing Soundbites over the next few months with a small number of creators and refine the product with their input before making it available to everyone. Closed-captioning will be integrated for accessibility.
They're also set to offer Live Audio Rooms (akin to what Clubhouse does) in both Groups and Messenger.  Audio features will eventually offer potential revenue opportunities too (i.e. one-off or subscription payments to Live Audio Rooms), or the ability to collect donations for a charitable cause as well. And it's worth noting that Clubhouse has rolled out a way to accept payments to select North American users (who can accept global payments) and they will expand the program in coming months, so these channels can be potential revenue earners via through classes, exclusive talks and access.
What are the advantages of using Soundbites?
Mainly that it's inside the Facebook ecosystem, directly integrated, so these audio tools and platforms will exist where many brands have already built an audience on social instead of trying to build a new one from the ground up elsewhere. If your clientele or target customers are Baby Boomers or Gen Xers this is also the best social channel on which to reach those demographics.
How can beauty and cosmetic brands and businesses use it?
This is a slightly more difficult medium for the beauty industry, as it's such a visually driven one, which is why Facebook's other offering, Instagram, has been such a boon for it.
But that's not to say it's impossible to find value in audio if you're in the beauty industry. In fact, during the various lockdowns over 2020, we learned that remote video and audio were great tools for educational and learning events with a remote and geographically dispersed audience. Distributors and brands could find it to be a useful tool for spruiking their wares and expanding sales and distribution networks to new regions.
These real-time, audio-only apps are also great for question-and-answer sessions, brand founder/expert talks, interviews or small fireside-style chats. Salons and spas could also find value in using this sort of audio for brand building and marketing, for example as a way to build buzz around and to make a big announcement.
It's worth keeping in mind that if this sort of audio is right for your social strategy, join sooner rather than later as there's always an advantage to early adopters, especially for brands without bottomless budgets, in terms of growing followers/fan base and audience engagement before the market becomes crowded with competitors.
For now Soundbites and Live Audio Rooms are in testing phase only, and being rolled out to select accounts, personalities and celebrities to trial.
—
Read the current issue of our digital magazine here:
For more news and updates, subscribe to our weekly newsletter.