When footy WAG and radio personality Bec Judd talks, people tend to listen. Nearly 900,000 people, to be precise.
So when she takes to her Instagram page to rave about a salon and its treatments, it's PR gold.
Just ask the owners of Flawless Rejuvenation clinic in Melbourne, where Bec splashed out for the Diamond Polar facial.
In the video – yes, she recorded while the treatment was happening – Bec tells her clinician her problem areas are around her mouth and lower cheeks.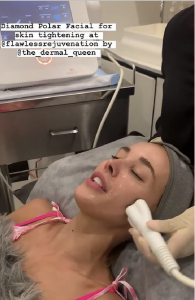 "The Venus Diamond Polar is a non-surgical skin tightening treatment where we use heat to naturally boost collagen production, which works to tighten skin, diminish fine lines and wrinkles, and restore a more youthful-looking appearance," said a representative fort Flawless Rejuvenation. "This treatment is safe and effective with no downtime, and is commonly used to treat the face, neck, décolletage hands and body."
The mum of four, who can reportedly command over $70,000 for a sponsored post, has been known to spruik everything from holiday destinations to Kmart cereal bowls, with the items she features regularly selling out.
According to the 'Influencing Beauty' report from Celebrity Intelligence, 98% of survey respondents fro the beauty industry believe influencer marketing is effective. In fact, in the UK, it was suggested that for every dollar spent on this strategy last year, brands secured an average return on investment of nearly nine dollars.
With that said though, if you are considering engaging the services of an influencer, there are some factors to bear in mind:
Check the validity of their followers
Have an agreed amount of coverage, at an agreed time
Have them share their analytics with you (new Instagram policies only make this visible to the account holder)
Ensure they are not working with your competitors

 

Ask what their most successful brand partnerships were
For more news and updates, subscribe to our weekly newsletter.