Biossance is having a great year. It's the skincare brand of the moment with Reese Witherspoon as its new celebrity spokesperson and a globally popular range of quality, sustainable, vegan skincare. It's focused on creating clean, safe, effective, eco-friendly skincare built on the thirst-quenching ingredient Squalane. This hydrating powerhouse, derived from sugarcane in this case, is in every Biossance product. Squalane is a bioidentical match to the moisture found in our skin, providing weightless and restorative hydration while delivering other active ingredients to the skin more effectively.
The history of the ingredient is far from happy, eco- or animal-friendly. Originally, skincare companies had tried to obtain similar substances by harvesting shark livers or turning to other unreliable natural sources, like olive. But Biossance's vegan, sugarcane-derived version is purer, more sustainable, and more reliable, and it saves more than 2 million sharks from being hunted and killed each year.
For World Oceans Day the brand has launched a limited-edition Biossance x Oceana Oceans Day, Every Day set ($92) in partnership with non-profit Oceana, the largest international advocacy organisation focused solely on ocean conservation.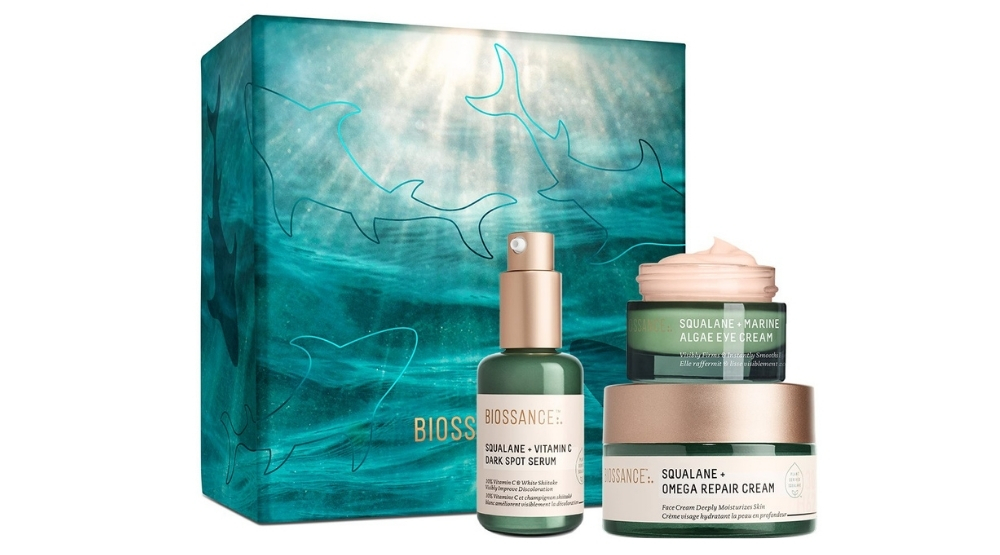 The set features:
Squalane + Marine Algae Eye Cream (Full size – 15mL)—Instantly lifts and firms the entire eye area from the very first application.
Squalane + Vitamin C Dark Spot Serum (Full size – 30mL)—Vitamin C + white shiitake mushroom extract instantly start fading dark spots and hyperpigmentation
Squalane + Omega Repair Cream (Full size – 50mL)—A rich, decadent cream with all the good fats (lipids) your skin needs to deeply moisturize.
5% of all proceeds from sales on the set are donated to Oceana and their effort to protect nearly 4 million square miles of ocean in an effort to restore the world's wild fish populations and increase marine biodiversity and abundance, says the brand. "At Biossance, our commitment to the ocean runs deep—from shark-saving ingredient innovation to sustainable, ocean-friendly packaging. Our mission of clean beauty through biotechnology beautifully compliments Oceana's policy-driven approach to keeping our oceans healthy, safe, and abundant."
The set isn't available in Australia but the visuals, voice, branding and online roll-out (on the website and socials) are a great example in how to successfully collaborate on and launch a limited-edition item and incorporating a brand's core values into a special offering. Getting the word out about saving sharks with your skincare brand wouldn't be easy, but this is a great way to do it.
Why it works
Authenticity: This really does tie into the brand's values. Their hero ingredient has a direct link to saving millions of sharks a year and they have baked sustainability right into the brand.
Consistency: There is consistency across voice, visuals, palette and messaging.
Creative: It's beautiful, cohesive, on message, on brand. It's something that catches the eye and makes sense. It looks luxurious, well crafted and like something you would happily spend money on to save the oceans!
Timing: The seamless PR push to get out the message about the brand's values on World Oceans Day coupled with the general launch to the public of the limited-edition set that is directly related to World Oceans Day were timed perfectly. Too early and no one would pay attention. Too late and the news hook is gone.
Partnership: The brand partnered with an organisation that directly reflects the brand's values, is globally recognised and shares the spotlight with the organisation on the limited-edition set. Who you keep company with matters, and they couldn't have chosen better.
Call to action: The brand donates proceeds to the organisation if you buy! Help save the ocean with your purchase. If you aren't compelling people to do something, they won't.
In Australia Biossance is available at Sephora, including the cult 100% Squalane ($49.00).
—
Read the current issue of our digital magazine here:
For more news and updates, subscribe to our weekly newsletter.
—
Have an idea for a story or want to see a topic covered on our site and in our pages? Get in touch at info@professionalbeauty.com.au.