With panoramic views of Katoomba in the heart of the Blue Mountains this luxury retreat tucked away in a Federation House offers guests the ultimate relaxation experience – stocking 100 percent Australian Made products this is the ideal time out.
Spa Sublime Director Lynda Davis chats about her inspiration and how she formulated her own Australian made skincare Akorah.
Tell us why you set up Spa Sublime?
It had always been my dream to run my own business. I can't remember why – it was over 15 years ago, but I know that I was drawn to the newly emerging day spa industry. I was a qualified massage therapist at the time, running a corporate massage business in Sydney, Brisbane and Melbourne but it was time for me to come home to The Blue Mountains. I gave myself two years to get everything together. I went back to college, studied beauty therapy and worked in a spa for around 12 months to gain enough experience to run my own spa. To be completely honest, it's hard to remember what I was thinking and feeling in those early days. I know it was very exciting and with hindsight, I realise I had no idea what I was doing.
How many rooms do you have?
We have four treatment rooms, three couples rooms and one single room, so we can treat up to seven guests at one time.
What is your beauty background?
I have been a massage therapist for nearly 25 years, a beauty therapist for over 16 years. I have been a Tafe teacher in beauty therapy and have developed my own spa range called AKORAH.
What do you love most about the industry?
I always say that we have the best job in the world. We make the world happier. Unlike nurses or policemen who see people at their worst, we get to see people at their absolute best. Generally, our clients love to see us and look forward to their time with us – no one ever says that about their dentist! I love the fact that every day is different and there are so many different avenues to explore in our industry, you can always keep learning and growing."
It is such a lovely space – can you give us an insight into the salon interior – how did you got about choosing the style?
Our building was built around 1904, it's an authentic Blue Mountains Federation home. I don't think I actually chose the style, all I try to do is accentuate the beauty of the building. I try to keep the space functional but at the same time, it's a calm and serene space where people want to stay a while – except when our resident ghost makes an appearance, but that's another story…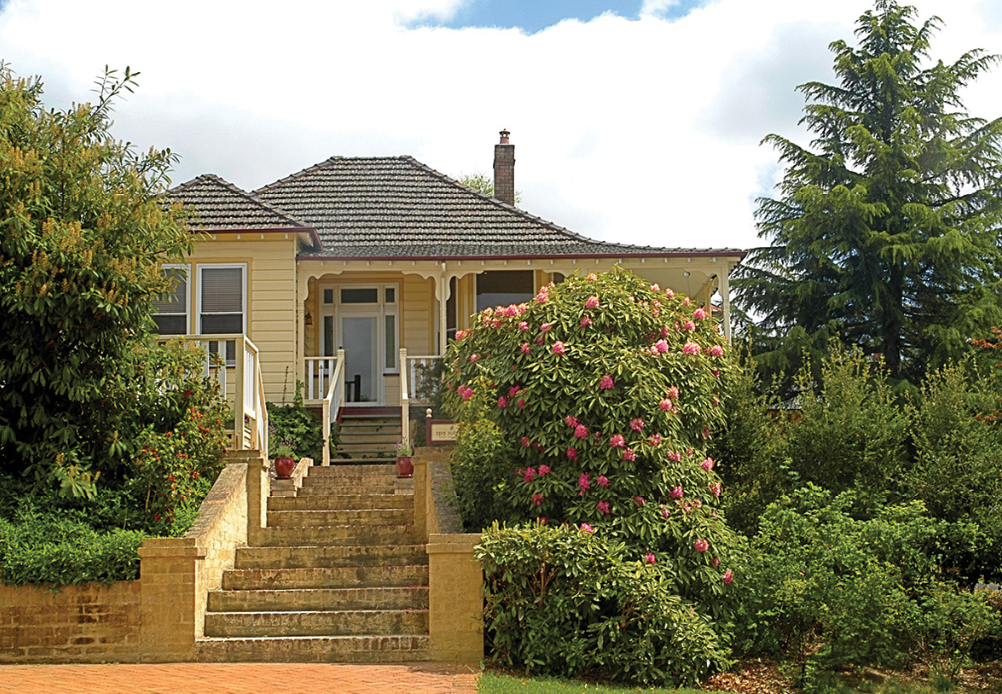 How often do you update the look?
We have had three major refurbishments in the last 15 years.
What is your most popular treatment at the spa space?
Well just about everyone wants a massage, but our most popular treatments are our bespoke packages where a client is able to select the duration of their stay with us then build their own package.
You also offer group packages how popular are these?
Very popular. Our Spa Par-Tea includes a 90min treatment of choice followed by high tea at the iconic Bygone Beauties in Leura. This is not your standard high tea, your waiter dressed in top hat and tails wheels out your trolley to the tune of Old Britannia, it's loads of fun.
How has COVID affected your operations – any measures that you have had to put in place?
Well, being closed for three months wasn't easy, though it was nothing like our Victorian colleagues have had to endure. I used this time to upskill all my team, to revamp our treatment menu and a couple of my therapists are now expert painters as we gave the spa a facelift. We were able to reopen on the 1st june and have been flat out ever since. Sure we have had to change a few things around to be Covid safe but we all know that as beauty therapists, 90% of what is required, we do anyway. Hygiene and sanitation is part of our DNA. Now we are more conscious of the way we book clients – staggering appointments and temperature checking everyone.
You also stock your own brand Akorah – tell us how you developed this?
Several years ago now, I developed Akorah as there was nothing available at the time that really fulfilled all my needs. I wanted a spa quality range specific to body treatments, that was 100% natural and made in Australia. I wanted a range that would tell a story, that our clients would form an emotional attachment to, that smelled beautiful and that every time they used it they would be transported back to their time in the spa.
What was the inspiration?
The Blue Mountains of course! The three colours of Akorah represent the landscape – green for the rainforest and the trees, ochre for the sandstone cliffs and blue, well blue is for everything else – the water, the sky and the mountains itself. Even the essential oil blends represent a personal memorymof my home the Blue Mountains. Thrive smells like a spring garden, Spirit reminds me of summer afternoons as a child and Dream smells to me like a Yulefest celebration, but this is my own interpretation.
It is 100 percent Australian made where do you source your ingredients from?
We try to use native Australian ingredients wherever possible. Our products are packed with actives such as Quandong, Kakadu Plum, Lilly Pilly and camelia and macadamia oils and all our products are fragranced with 100% pure essential oils.
How many products are in the line and are you look at expanding this?
Akorah is a specialised body range and every product is designed specifically for a spa ritual. We have a body polish, body mud, nut free massage/body oil, body custard, hair mask, essential oil and herbal tea, all available in three signature scents. I have a few products on my wish list that I hope to develop in the coming months but there has to be an 'in treatment' purpose for any product we release. We are about to launch a divine facial oil as I needed a beautiful massage medium to use in our gua sha facials.
What have you learnt from launching your own brand?
That it is hard work and takes time and a lot of dollars. I now understand why it takes several months to develop a new product.
This article first appeared in the November/December issue of Professional Beauty magazine. Download the issue here.
For more news and updates, subscribe to our weekly newsletter