Want to see what new products you could be stocking, serving in your space or incorporating into your treatments or makeup sessions? We've rounded up the latest launches this month from the brands you use and love. Read on to find out more:
THE PEEL | Aspect Dr™ Lanazyme Micro Peel
It's an advanced enzyme gel formula that visibly lifts away lifeless cells for instant gratification and immediately smoother, more radiant looking skin. Ideal for all skin types, especially those with ageing concerns. May be used as an at home treatment to extend and support results of professional services. Performance ingredients include: Lactobacillus/Pumpkin Ferment Extract, Lanablue™ (a phytoretinoid derived from blue-green algae that helps to achieve the results of Vitamin A with the minimised risk of irritation), vitamins A, E & C, Fruit Enzyme Complex, Malachite Extract and Coffee Extract
Joanne Healy, Product Development Manager Advanced Skin Technology, says "Lanazyme partners perfectly to any skincare routine with its unique formula of extracts, delivering a natural boost of Vitamins, Antioxidants, Minerals, Fatty Acids, Probiotics and our favourite hydrator Hyaluoronic Acid.
Like no other exfoliant on the market, Lanazyme has been formulated to have a two-fold action to feed and condition the skin's microbiome, as well as resurface and smooth skin texture.
With its nutritious blend of blue/green algae (Lanablue), fermented pumpkin extract (Lactobacillus/Pumpkin Ferment Extract), superfruit enzymes, and malachite extract rich in zinc, copper, selenium, and manganese, Lanazyme is ideal for all skin types especially those with ageing concerns and sensitive skins not normally suited to AHA or high strength retinol products.
A must have in your bathroom cupboard for the skincare addict!"
Aspect Dr™ Lanazyme Micro Peel (AUD RRP $69.00, 50g, NZD RRP $72.00, 50g). Available now, www.aspectskincare.com.
---
THE FACE LOTION | Dr. Hauschka Day Lotions
Dr Hauschka, pioneers of natural and organic skincare, are delighted to introduce Peace, Happiness & Sunshine in a bottle with three new light and refreshing Day Lotions for individual skin conditions. Soothing Day Lotion is calming, cooling, soothing and strengthening for sensitive skin or skin prone to redness and enlarged capillaries. Balancing Day Lotion to balance a combination skin prone to oily T-zone and pimples, and the repositioned Revitalising Day Lotion is an enlivening and activating moisturiser for a tired, pallid, dry/dehydrated skin.
Dr. Hauschka Esthetician Training Manager Australia, Melanie Anderson, says "the New Dr. Hauschka Day Lotions allow our Dr. Hauschka Estheticians to personalise their Facial Treatments even more.
The Balanced Day Lotion allows the client with combination skin prone to an oily T-zone and pimples to feel blissfully clean and clear after a Dr. Hauschka Facial Treatment. Botanical ingredients such as balancing anthyllis, silica rich field horsetail and nasturtium, and tapioca starch to reduce shine are rounded off with the delightfully refreshing aroma of lemon lemongrass. The Soothing Day Lotion[…] helps to soothe and hydrate even the most sensitive skin, including those with rosacea skin conditions. [….] Clients will finish the Dr. Hauschka Facial Treatment with skin as soft and silky as freshly picked rose petals. The Revitalising Day Lotion has an activating and enlivening effect on a dry or dehydrated, lacklustre skin condition. This Day Lotion is the ideal treatment for the skin that cannot tolerate a day cream, but still needs extra nourishment. "
"Dr. Hauschka launched its first skin care products in the year of the summer of love, the high point of the flower power movement," says Kathrin Mezger, the product manager responsible for the Day Lotions at Dr. Hauschka. "We are also connected to the movement by our drive to be different. That is, our commitment to fair, sustainable and natural products which harness the power of medicinal plants. All Dr. Hauschka's products are powered by flowers, including
our NEW Day Lotions."
Dr. Hauschka Soothing, Balancing and Revitalising Day Lotions (AUD RRP $65.00, 50ml). Available now in salons, Dr. Hauschka trained estheticians and in store, www.drhauschka.com.au.
---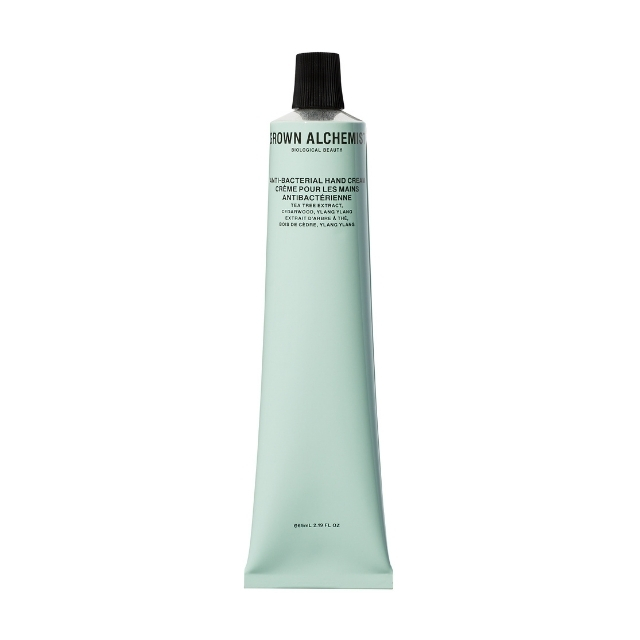 THE HAND CREAM | Grown Alchemist Anti-Bacterial Hand Cream
Following the success of Grown Alchemist's existing hand cream range, the 100% Natural, 'no nasties' skincare brand has just launched its new Anti-Bacterial Hand Cream packaged in a stunning mint green tube, perfect for any bathroom shelf. Combine this together with the Hydra-Hand Sanitiser which kills over 99% of bacteria for the ultimate germ-fighting pairing. We recommend using the two products together as part of a two-step hygiene routine to leave hands softly scented.
The latest Grown Alchemist hand cream comes second in a two-step process after the Hydra-Hand Sanitiser (RRP AUD $40.00), a non-drying, antiseptic hand sanitiser formulated with 70% Ethyl Alcohol extracted from can sugars with Tri-Hyaluronan Complex and antioxidants. The Hand Cream is an innovative, non-greasy formulate, created with anti-bacterial and soothing ingredients –Tea Tree Extract, Cedarwood and Ylang Ylang. The cream noticeably protects hands from germs and the impacts of environmental stressors that lead to premature aging.
Grown Alchemist Founder & CEO Jeremy Mujis says "function in the skin and body is driven by health, which is why it is so important our formulations use natural, clean and ingredients. Our 100% natural clean formulations restore the function of the skin and slow down biological aging, we call this the biology of beautiful skin."
Grown Alchemist, Anti-Bacterial Hand Cream, (AUD RRP $32.00, 65ml). Available now, www.grownalchemist.com/au.
---
THE TEA | Vita-Sol Certified Organic Tea Blends
Vita-sol have launched a range of herbal tea blends to complement their range of natural prebiotic beauty ingestibles. They're expertly crafted, certified organic and sustainable herbal blends and caffeine free.
Skincare and nutrition expert and Founder of Vita-sol, Fiona Tuck says "I believe in supporting the skin from within using the purest quality ingredients. The skin is the largest organ of the body and the first to show signs of oxidative stress, 'inflammaging' and nutrient depletion."
"My range of Certified Organic herbal teas are full of all-natural herbal ingredients that have known skin and health benefits. Take Ashwagandha root for example, included in our Vitality blend – an ancient adaptagenic medicinal herb with multiple health benefits, namely known to reduce anxiety, stress, exhaustion and adrenal fatigue. Our Clarity blend incorporates herbs such as spearmint, a herb known as a DHT inhibitor or anti androgen making it an effective tool against hormonal skin conditions such as acne. Our Sensitivity blend has been designed to support skin sensitivity and seasonal allergies using a blend of herbs known for their antihistamine properties."
We've consciously kept ingredients to a minimum, with a maximum of five in each blend to ensure simplicity and ultimate efficacy."
Vita-Sol Herbal Tea Blends, (RRP AUD $27.50 each blend, Vitality and Immunity 50g, Traquility and Clarity 40g, Sensitivity 30g). Available now at selected stockists and online at www.vita-sol.com.
---
THE SERUMS | Evidence Skincare (ESK) Reverse C Serum and C Serum Lite
Containing 10 percent L-Ascorbic Acid, a concentration which balances strong evidence for high skin tolerance and product stability, the Reverse C Serum and C Serum Lite by Evidence Skincare (ESK) is formulated to combat UV-induced free radicals, improve collagen synthesis, reduce hyperpigmentation, and protect against sun damage.
"As a highly unstable molecule, L-Ascorbic Acid must be formulated at a pH of 3.5 or less to penetrate the skin's waterproof barrier and remain stable. "It must also be packaged in an opaque, airless bottle to ensure its long-term effectiveness and protect from oxidisation," said Dr. Ginni.
Formulated to meet these particular requirements, the Reverse C Serum combines 1% Tocopherol (Vitamin E) which evidence suggests increases the effectiveness of L-Ascorbic Acid. C Serum Lite, an option ideal for oiler skin types, is formulated in an anhydrous base to provide optimal skin penetration without the added hydration.
"Vitamin C is a must-have ingredient for all age groups," said Dr. Ginni. "It protects your skin from free radicals created by excess exposure to the sun, cigarette smoking, and other environmental pollutants. "It also combats inflammation and other cellular processes that accelerate ageing in the skin."
Full Professional Beauty article on ESK Vitamin C Serums found here.
ESK, Reverse C Serum (AUS RRP $95.00) and C Serum Lite (AUS RRP $90.00) is manufactured in Australia and available globally now at www.eskcare.com.
—
Read the current issue of our digital magazine here:
For more news and updates, subscribe to our weekly newsletter.