Skin technicians know that when their customers demand brighter, smoother and firmer skin, they've already done their research. They know which ingredients will work to achieve their complexion goals, and they've come to you for the most effective and efficient way to make that happen.
Enter the Venus Glow. The dermal renewal treatment works to open and deep-clean pores, while delivering a potent vitamin-rick serum right where it's needed.
With two powerful jet streams – each finer than a strand of hair – the Glow Serums are able to be deposited right into the depth of the pore, prompting enhanced absorption of the nutrients.
A vacuum gently pulls the skin to open the pores, while the tip spins 360-degrees to evenly spread the selected Glow Serum. The vacuum also increases local micro-blood circulation while the spinning tip micro-massages the skin to increase the spread of nutrients released from the bloodstream.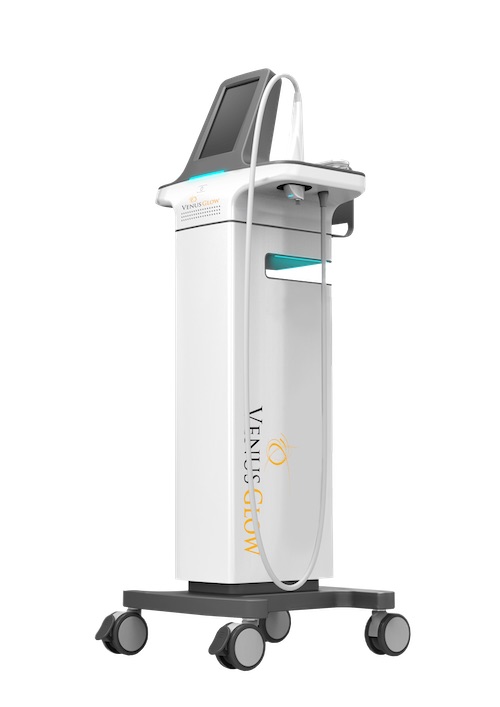 Serums
GlowAstra
Skin brightening antioxidant serum, formulated with natural plant extracts and powerful Vitamin C to enhance and maintain skin tone, texture and brightness.
GlowSana
Skin protecting serum, with in antioxidants with powerful pent extracts known to slow down ageing of the skin while providing protection from free radical damage.
GlowNova
Anti-ageing serum containing amino acid peptides known to help reduce the appearance of fine lines and wrinkles. Peptides enhance texture, strength and resilience of the skin.
GlowClara
Calming and soothing serum designed to reduce redness and irritation. Contains peptides to diminish blemishes and redness. Added plant extracts that contain antioxidant properties known to boost skin's repair system.
For more news and updates, subscribe to our weekly newsletter