Future Advanced Line Filler is formulated with a patented biotechnological advanced dehydrated hygroscopic hyaluronic acid with targeted filling technology. It delves deep into the dermis, providing an instant filling action boosting hydration and plumping the complexion.
This rapid wrinkle filler helps to visibly improve the appearance of fine lines and wrinkles, crow's feet, and nasolabial folds.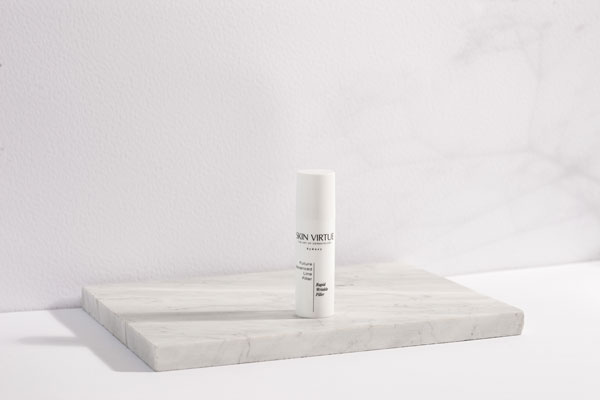 It also helps support the skin barrier while providing superior antioxidant and anti-ageing benefits.
Hero product, Future Advanced Line Filler has garnered outstanding reviews and has even been hailed 'the best serum of 2021'.
The Future Advanced Collection is Skin Virtue's most concentrated collection featuring breakthrough anti-ageing technology. The Future Advanced Collection is designed to help prevent and treat the signs of advanced skin ageing with formulations that incorporate potent active ingredients and liposomal delivery systems.
Developed to be used with both the Super Clear and Pure Anti-Ageing Collections as a booster for specific concerns, Future Advanced targets fine lines and wrinkles, loss of elasticity, volume loss, discolouration and environmental damage. It helps to prevent and treat advanced skin ageing by visibly rejuvenating and renewing skin vitality.
Non-comedogenic, anti-irritating, anti-allergen with no parabens or mineral oils, Skin Virtue is designed to be kind to skin, making it suitable for even the most sensitive of skin types.
https://www.skinvirtue.com.au/products/future-advanced-line-filler-rapid-wrinkle-filler-skin-virtue
Skin Virtue
https://www.skinvirtue.com.au/
1800 242 011 cs@advancedcosmeceuticals.com.au