Medik8 Advanced Day Ultimate Protect is a multi-tasking moisturiser featuring advanced sun protection filters combined with supercharged 360-degree environmental defence and DNA Repair technology to help protect and maintain healthy-looking skin.
Working to help combat visible signs of ageing while nourishing the skin, Advanced Day Ultimate Protect is a beautifully rich daily moisturiser that leaves the complexion with an invisible finish, ready to protect against the day ahead.
Combining a complex of premium, modern chemical sun filters carefully selected for their photostability, high performance on the skin and their kind to skin capabilities, Advanced Day Ultimate Protect provides all round protection.
It features hero ingredient, photolyase, a type of DNA repair enzyme that is derived from plankton extract. Photolyase is activated by light to help rapidly repair DNA defects, with each enzyme encapsulated to optimise penetration & delivery. Essentially, Advanced Day Ultimate Protect not only helps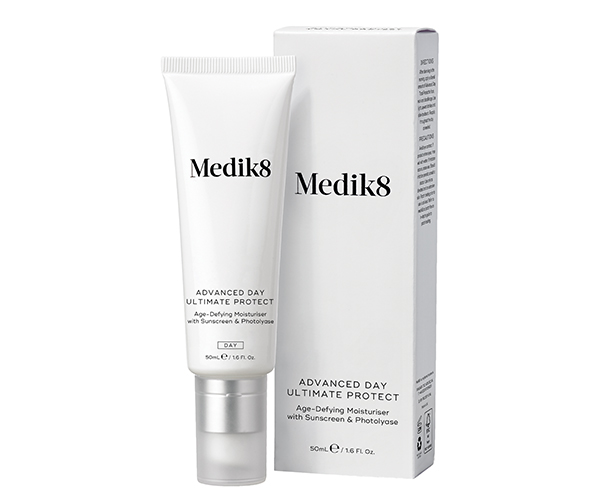 protect the skin, but it also helps repair DNA damage derived from UV while you wear it.
Advanced Day Ultimate Protect also provides upgraded protection against every aspect of the environment, harnessing 360-degree defence against blue light, pollution, infrared rays and glycation.
With an invisible non-greasy finish, Advanced Day Ultimate Protect has been carefully formulated to deliver great protection in a nourishing daily moisturiser format for all skin tones.
It offers resilient protection in every situation, season or location and is designed to be a mainstay in your skincare routine, 365 days a year. Infused with nourishing squalane and hydrating, multi-weight hyaluronic acid, Advanced Day Ultimate Protect leaves the skin feeling nourished, and protected while helping deliver optimum anti-ageing benefits.
www.medik8.com.au/advanced-day-ultimate-protect
Advanced Cosmeceuticals
www.advancedcosmeceuticals.com.au
1800 242 011
cs@advancedcosmeceuticals.com.au