Embodying the Medik8 Philosophy to achieve 'Beautiful Skin for Life', Medik8 for Men CSA Philosophy Kit Discovery Edition contains everything a man needs to start following the CSA Philosophy in three deluxe miniature sizes.
"Now that more men are getting serious about skin condition and ageing, we
feel they deserve the best and not some watered-down version. To me, CSA is the foundation to great skin for everyone."
Elliot Isaacs, Medik8 Founder
Medik8's CSA Philosophy – vitamin C plus sun protection by day, vitamin A by night, is easy-to-follow and contains everything needed to visibly reduce premature skin-ageing as well as futureproof skin over time.
Medik8's carefully curated Medik8 For Men CSA Philosophy Discovery Kit is for the man starting his skincare journey. With popular formulas at lower strength levels in three deluxe miniature starter sizes, it ensures the very best at home skincare experience for the less experienced or sensitive skin types.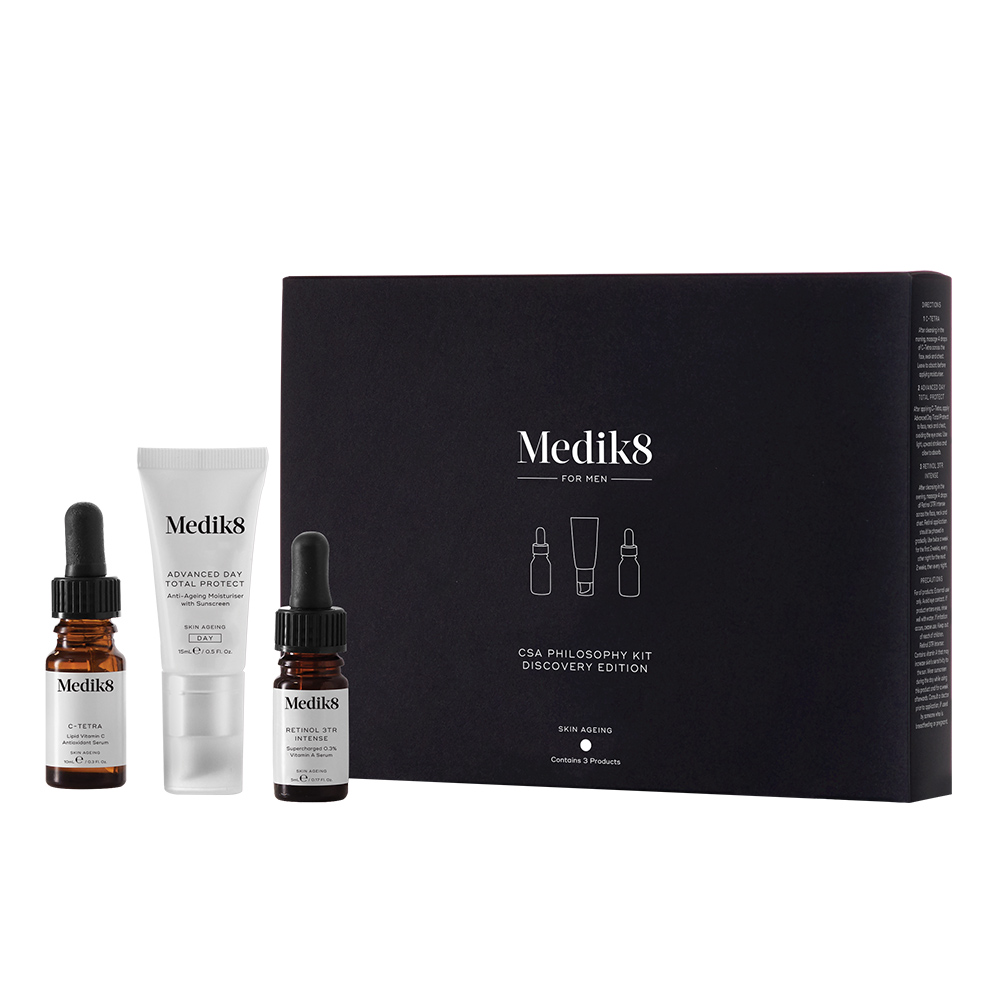 Medik8 for Men CSA Philosophy Kit Discovery Edition contains:
C- Tetra 10 ml
Vitamin C is one of the most well proven antioxidants in skincare. C-Tetra is a super-light vitamin C serum with antioxidant power provided through vitamin C and E. It helps combat sun and pollution-induced damage, reduces appearance of fine lines and wrinkles, and visibly brightens the complexion with minimal irritation.
Advanced Day Total Protect with Sun Protection – 15ml
80% of skin ageing is caused by sun exposure, which is why sun protection is so important. Men also love that Medik8's sun protection products are formulated so they aren't sticky and don't leave a white residue on the beard area.
Advanced Day Total Protect combines comprehensive environmental protection in a deeply hydrating moisturiser to help prevent premature skin ageing. Super-light with an invisible finish it includes Pollution Shield, anti-infrared, anti-blue light and anti-A.G.E technology alongside sun protection for total environmental protection.
Retinol 3TR™ Intense – 5ml
As the Experts in Vitamin A, Medik8 understands its exceptional importance to skin. This powerful molecule doesn't just help resurface, it also helps combat fine lines and wrinkles, visibly reduces blemishes and promotes a brighter, more even-toned complexion.
Retinol 3TR Intense is a lightweight vitamin A night serum formulated with 0.3% retinol and supercharged with climbazole, a compound proven to boost the results and anti-ageing benefits of vitamin A without increasing the irritation.
Medik8 Australia
www.medik8.com.au
1800 242 011
cs@advancedcosmeceuticals.com.au