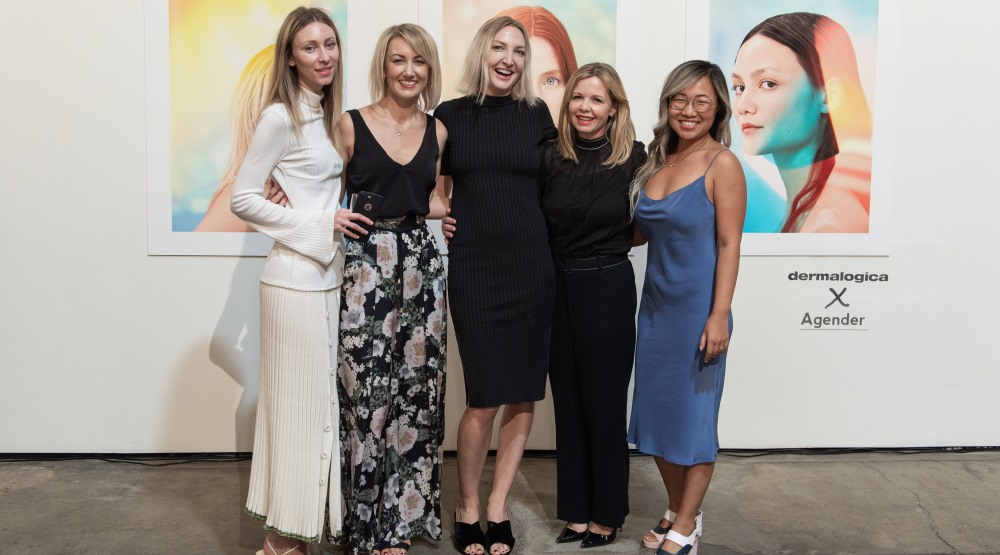 Dermalogica held an event on International Women's Day eve that highlighted female photographers and their latest product launch.
The event was held at Alexandria's Sun Studios where media and influencers sipped on cocktails and nibbled on cheeses and cold meats while perusing an exhibition that featured images taken by Agender's local female photographers.
The professional skincare brand partnered with the female photography collective in an effort to raise awareness around gender inequality in the photography industry.
The partnership coincided with the launch of Dermalogica's new campaign for Prisma Protect SPF15, a light-activated multi-tasker that uses light-activated intelligent drone technology to convert visible light into increased skin luminosity, while protecting against free radicals and pollution.
The campaign, Prisma Protect, was shot by Agender photographers Cybele Malinowski (co-founder of Agender) and Anna Pogossova, and features three influential Australian women including graphic artist Kitty Callaghan, designer Poppy Lissiman and model and artist Rachel Rutt.
The collaboration is the latest embodiment of Dermalogica's long-standing FITE initiative (Financial Independence Through Entrepreneurship) which aims to economically empower women globally by providing them with opportunities.
Agender co-founder Angela Liang said that women were "consistently being shown the world through a male lens".
"In Australia, almost 60 percent of photographers are female, and yet less than 25 percent of agency represented photographers, who are booking the top industry jobs, are female," she said.
Dermalogica Australia general manager, Kristie Millgate, said since 1983 Dermalogica's mission had been to define and bring respect to the professional skin therapist.
"In an industry that is 98 percent female, this is a goal that is closely linked to gender equality," she said.
"We know that when women succeed, everyone succeeds.
"It is with this purpose in mind that we aim to educate, innovate, and move the conversation forward."
For more news and updates, subscribe to our weekly newsletter.