There was a time before COVID. There was COVID. Now, we might be riding out the Delta wave of the pandemic, but soon we'll be entering the post-COVID era.
In terms of digital adoption, the pandemic was a prism – it expanded the services and categories people transacted online, it accelerated acceptance of an online-first mindset amongst consumers, and it brought stragglers online who previously preferred bricks-and-mortar.
Despite restrictions almost entirely lifted across Australia for the first half of this year – with the exception of recently announced lockdowns – many of these behaviours developed during the pandemic have not only stuck, they've continued to accelerate.
The above data shows Australian traffic to eCommerce sites across all categories continuing to accelerate despite local consumers being largely free of lockdowns from the start of this year.
When comparing online traffic to Australia's top 100 eCommerce sites in Q1 2019 (pre-COVID) to Q1 2020 (COVID), we see an increase of 10.53 per cent. Under normal circumstances, an increase of more than 10 per cent in traffic would be remarkable… but it pales in comparison to the increase on the other side of COVID, which saw Australian eCommerce traffic surge by more than 42 per cent in the first quarter of this year.
Not only has traffic increased, but so has the conversion rate which is now more than six-and-a-half per cent higher than it was 12 months ago.
Below are the findings specific to the Health and Beauty sector.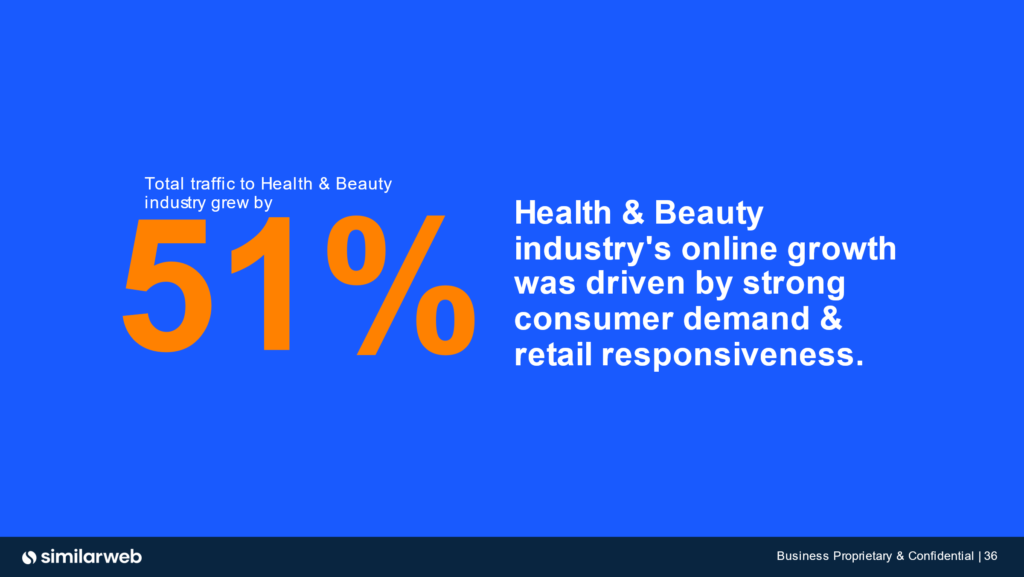 Total traffic to Australia's Health and Beauty industry websites has grown by 51% Y/Y, with consumers showing increased interest in skincare, body and haircare products during lockdowns.
Below, we've broken down web traffic numbers into four subcategories of the Health and Beauty sector – Skin, Makeup, Hair and Body:
While the Makeup category showed sluggish 4% growth year-on-year – despite a 38% increase during the initial lockdowns of 2020 – Hair emerged as the fast-growing category year-on-year with an increase in traffic of 45.53%. This includes a 72.59% surge during last year's lockdowns.
What we see here is that Australian consumers have shifted buying patterns for these Health and Beauty products to online stores. While haircare has the highest sustained growth (more than 45% compared to pre-pandemic levels) the 85% growth in the Skin category between February and April 2020 is particularly interesting as it coincides with the emerging K-Beauty trend among Australian consumers, with searches for K-Beauty products exploding in Australia last year.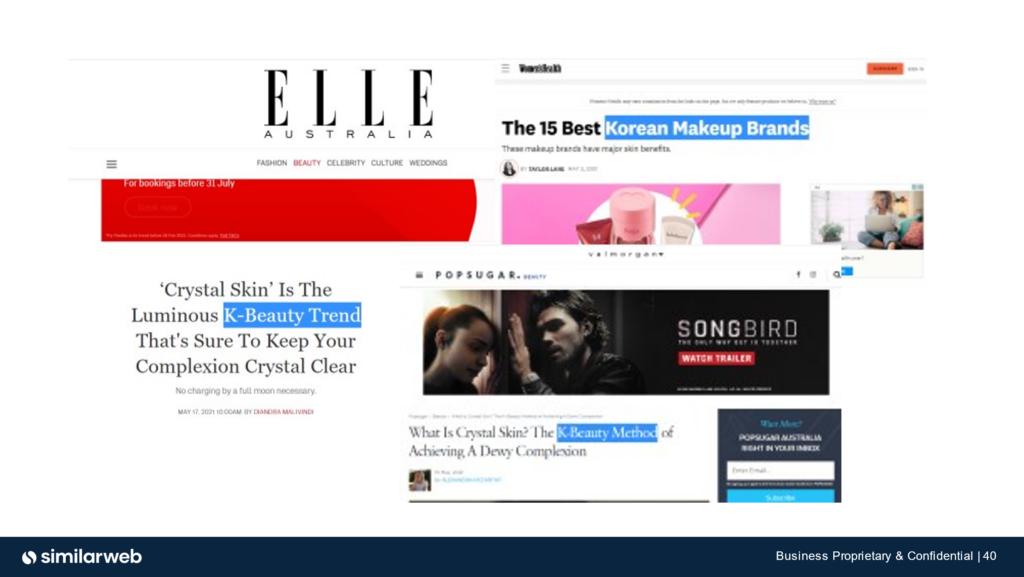 K-beauty essentially means skincare products from South Korea. The products tend to be more natural than traditional alternatives, with the end-product being clearer, glowing, more moisturised skin for the user.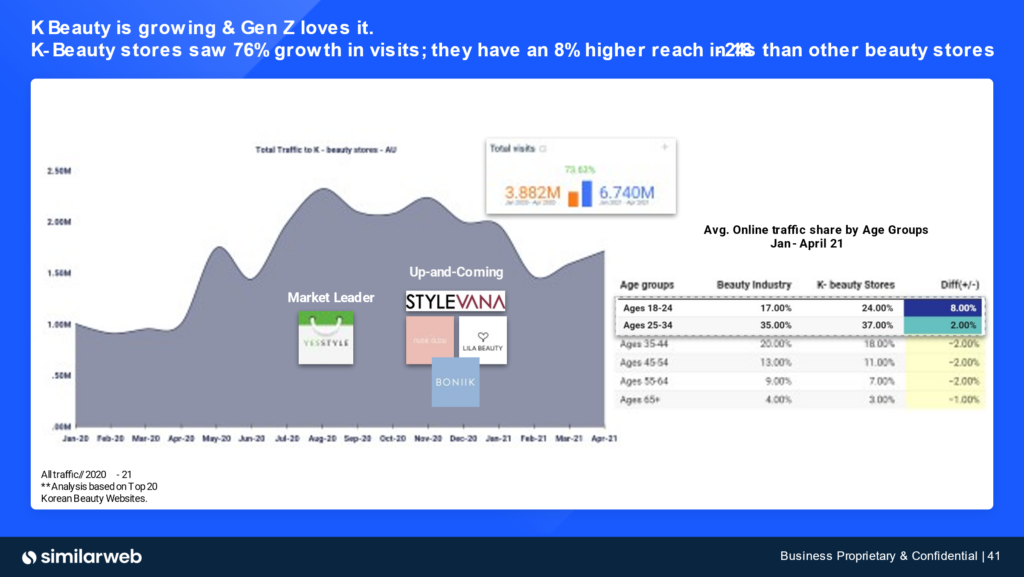 The market leader in this K-Beauty category is Yes Style, with Stylevana, Lila Beauty and Nudie Glow some of the up-and-comers. K-Beauty stores saw a 76% growth in visits year on year, and Gen Z are the main drivers behind this growth. Between January and April 2021, these stores had an 8% higher reach in the 18-24 bracket than other beauty stores.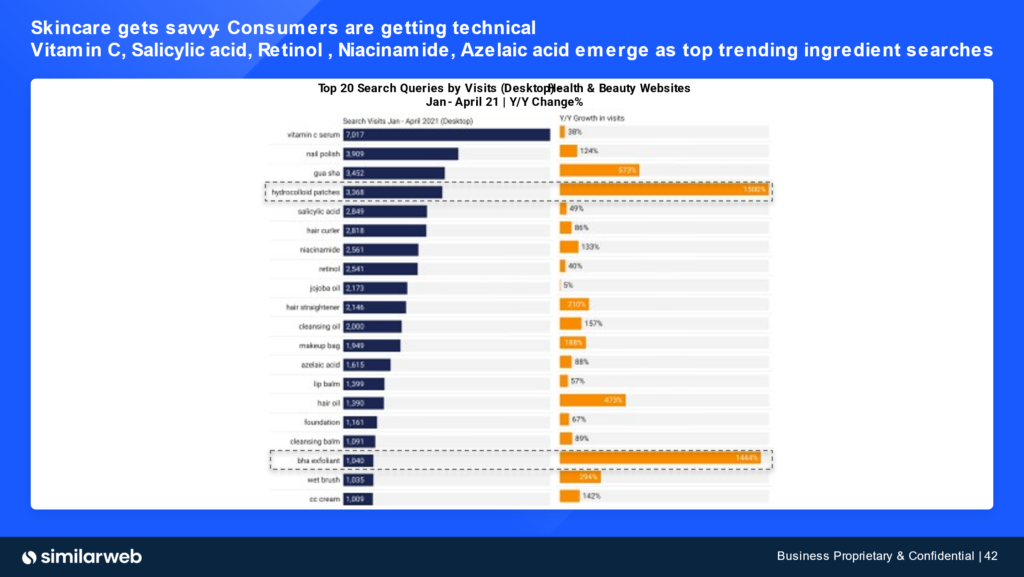 Another beauty trend being driven by Generation Z – particularly those on TikTok – is a far more mature and proactive approach to the research carried out before making a purchase.
TikTok influencers are not just promoting certain brands, they're singing the praises of specific ingredients in health and beauty formulations. This trend overlaps with K-Beauty, as many of the fastest growing search terms are for ingredients that primarily appear in Korean beauty products.
When digging into the 20 fastest growing search queries for Health and Beauty, we can see consumers are keenly aware of the ingredients they're looking for.
In other words, skincare is getting savvy.
Rather than simply search for "pimple patches" or "acne patches", the fastest growing search term (growing by 1500%) was for "Hydrocolloid Patches". Similarly, the second fastest growing term was not just for "exfoliant", but specifically for "BHA Exfoliants", which grew by more than 1400%.
If we look at the other fastest growing search terms, we can see specific ingredients dominate the list – including salicylic acid, niacinamide, and retinol.
The above table shows the 10 fastest growing online Health and Beauty sites among Australian consumers during 2020.
The emergence of K-Beauty is further illustrated in the above table which shows the 10 fastest growing online Health and Beauty sites among Australian consumers during 2020.
The fastest growing Health and Beauty website last year, stylevana.com, is dedicated to Korean beauty products and grew an astronomical 924 times last year – from around 1,500 Australian visitors in 2019 to more than 1.4 million in 2020. Nudieglow.com, another K-Beauty focused site, was the ninth fastest growing, witnessing 264% growth.
While most of the fastest growing Health and Beauty websites were either 'marketplace' sites selling a range of different brands and products, or sites offering reviews, tips, and guidance, Deciem emerged as the most popular brand for Australians with 475 per cent growth in 2020.
Perhaps the best way to highlight its popularity is to look at the 10 fastest growing search terms in the final few months of 2020.
With almost 20,000 direct search terms related to Deciem each month between September and December, it clearly commanded the highest overall traffic, making up six of the top 10 fastest growing search terms. Interestingly, with the exception of 'bondi boost hair growth', the remaining top 10 were related to K-Beauty.
Before 2020, a digital presence was for many businesses a 'nice to have', but last year accelerated the shift toward digital-first. The fastest growing Australian brands were those who responded best to these new consumer demands.
Digital has well and truly become the primary way we engage as a society – whether that's with friends and family via video conference, streaming entertainment, working remotely, or taking care of our skin.
---
What are the implications for professional beauty brands
The Professional Beauty team believes a user-friendly, seamless, fast online experience with your brand is no longer just nice to have, but a necessity for success. Your brand needs a website that works (see our recent article on top tips for your beauty website), as Beauty Editor Ruby Feneley highlighted in her recent piece on chasing the luxury consumer.
You need optimised visibility in search, particularly in Google My Business listings.
Socials need to be maintained with a consistent presence where you're community building with human-to-human marketing and advocacy marketing.
Be ready to e-retail the products you usually sell in salon, embrace the growth of tele-beauty and virtual consultations and use online booking outside of business hours and online calendars and schedulers to make sure that you can handle the inundation of appointments when your business gets to re-open after an extended closure (like the current NSW, ACT and Melbourne lockdowns).
About Similarweb:
As a trusted platform for understanding online behaviour, millions of people use Similarweb's insights daily to strengthen their knowledge of the digital world. We empower anyone — from the curious individual to the enterprise business leader — to make smarter decisions by understanding why things happen across the digital ecosystem. Learn more here: https://www.similarweb.com/corp/about/
—
Read the current issue of our digital magazine here:
For more news and updates, subscribe to our weekly newsletter.
—
Have an idea for a story or want to see a topic covered on our site and in our pages? Get in touch at info@professionalbeauty.com.au.