The age of the influencer is over. At least, that's what Robin Derrick, creator and founder of MyBeautyBrand says. "The world dearly loves a cage and being told what to do," he explains. "Self-expression and freedom through communication and social media has quickly become top-down, whether that's brands or influencers paid by brands. It's lost its way."
His solution was to create MyBeautyBrand, a digital platform whereby the average person can share the products they already have and love. Anyone can post pictures of themselves using their products – as well as Robin's own brand – and the end-goal is to have followers visit the page, view the products and, if they buy them, the poster earns a commission.
The business model is two-fold. "The idea is that I'm basically launching two things – MyBeautyBrand is the peer-to-peer platform on which you can create your own store and buy and sell beauty products. The range of our own products is called 'By Me', that's the brand of the products we sell and these are the tools for self-expression. I'm also using the platform for creative and interesting people to launch their own products. The idea is to continually collab with [beauty experts], as well as collaborating with some brands."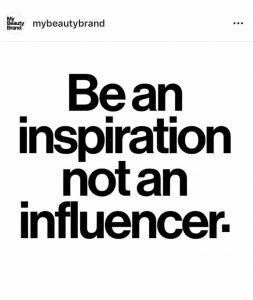 The idea is clearly to encourage members to use the By Me products, given that this is the avenue through which they can earn not only commission, but also a stake in the company. With sales resetting each month, any member that sells in excess of GBP3, 000 (AUD$5,700) in a quarter, gains access to the scheme to earn shares in the company.  "I often think: 'Why isn't everybody their own beauty brand?' Everybody is a tool for self-expression. Everyone can have a MyBeautyBrand store and everybody can own a part of the company. For me, I think we should own the companies that make things that matter to us. We can be part of the discussion and that's the way it should go."
Robin insists that self-expression is at the crux of MyBeautyBrand, and his plan is to continue empowering young creatives to put the industry back on track to where it was always meant to go. "Self-expression will outrun the influencers in my opinion," he muses. "The cat's out of the bag and we've been given a tool now to speak to the world."
For more news and updates, subscribe to our weekly newsletter.