Looking at personal skincare options can be a confusing exercise. It is difficult to find products that will give the desired results, therefore many products sit in bathroom cabinets barely used because of a poor outcome. This creates a lack of enthusiasm and confidence in consumers to try again. For this reason and many more, LYCON is very excited to launch its brand-new LYCON Skin collection, a premium bioceutical skincare with complex 'superhero' ingredients that make significant visible differences. 
LYCON has long standing skincare development and manufacturing experience that spans almost 50 years, with further diverse experience beyond that. LYCON Skin is formulated using LYCON's new Adaptive Skin Science Technology, which makes each product multi-faceted and multi- functional, shifting the paradigm of what skincare should be like. LYCON Skin is all about a minimalist skincare collection that is easy and simple to use, with a big personality, and strong, long lasting skin corrective results.
This does not happen overnight. It is coupled with the experience of LYCON CEO & Founder Lydia Jordane, who is a world-renowned aesthetician and entrepreneur. Her involvement in the beauty sphere dates as far back as her childhood in Europe in the early 50's when Lydia would always be meddling in her father's cosmetic chemist laboratory, under his feet or on his lab bench, often with a lot of creams all over herself.
These days all R&D at LYCON Cosmetics is conducted by LYCON's inhouse cosmetic chemist, with decades of cosmetic science experience, sharing Lydia's passion for all things LYCON, beauty, thorough ingredient research and rigorous functionality testing.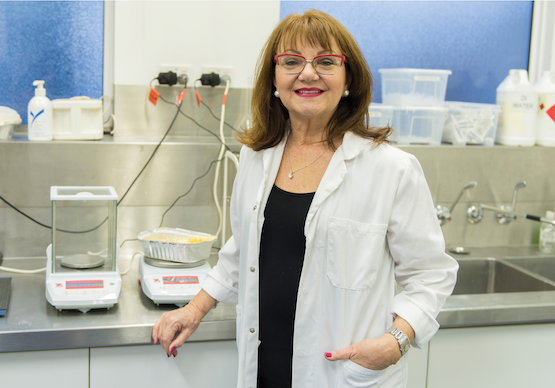 A lot goes on behind the scenes before any product reaches the lit-up shelves in any shop. LYCON does not skimp on ingredients, always including the recommended ingredient dosages in each formula, ensuring LYCON lives up to and continues to be recognised for its results-driven, high quality products. This does not happen overnight, it is dependent on thorough testing, evaluating, painstaking detail and stability testing, before scrutinising over packaging design, marketing and necessary training.
Lydia is not a newbie in the development and launching of new products or associated training programmes. She has a keen eye for detail and is one of Australia's foremost pioneers in the beauty industry, first starting with her wax making experiments on the family kitchen stove in 1968 for her own personal use. She became an aesthetician in 1977, followed by the manufacturing of LYCON waxing products and skincare from 1978, that is now exported to over 75 countries.
No two skins are the same and to top it all off, most have a combination of different skin conditions and concerns on different areas of the face, with conflicting needs. In addition, individual skin needs change daily, depending on its chemistry, climatic conditions, pollution factors, genetics, nutrition, as well as environmental and emotional stress factors. Considering skin changes throughout the day, it is necessary that the skin's intricate needs are continuously addressed with dependable skincare.
LYCON has taken their core A-Beauty values of simple, natural ingredients that work overtime to deliver outstanding visible results, amplifying performance and simplicity by harnessing the natural bioceutical ingredients which intelligently adapt to individual skin changes and needs.
Traditionally, skincare products have been solely focused on one skin type as conventional ingredients have often been heavy-handed and simplistic in their interaction with the skin. However, by embracing natural biotechnology, LYCON have carefully employed smart bioceutical ingredients and complexes that work with the skin's own protective and restorative ability to achieve effective results that harmoniously adapt to the skin's needs, regardless of each skin type. The result is a minimalistic fuss-free skincare regime featuring products that are suited to all skin types, effortlessly delivering the visible results that everyone aspires to.
The hero biotech ingredient that lies at the core of LYCON Skin adaptive skincare technology is Beta-Glucan. This natural polysaccharide derived from the cell walls of baker's yeast, delicately communicates with the skin to enhance its natural protective, detoxifying, and restorative functions to bring balancing, soothing, hydrating, repairing and anti-ageing results that can be seen and felt. In addition to Beta-Glucan, LYCON Skin products also feature an intelligent and synergistic blend of other high-performing effective natural ingredients such as Peptides, Vitamins, Fruit AHAs, Rosehip Oil, Vegan Sunflower Ceramides, and multiple types of Hyaluronic Acid, to support and enhance all skin types.
As if all of that wasn't enough, LYCON Skin has been formulated to care for skin under extreme Australian conditions, so the formulas are further boosted by highly researched and results-orientated Australian botanicals such as Kakadu Plum,Finger Lime (aka Caviar Lime), Tasmanian Pepperberry and anti-ageing Kangaroo Paw Flower Extract. This bounty of Australian botanicals provides multiple skin care benefits from antioxidant activity to cellular renewal, to soothing hydration and even the improvement of the skin's dermal architecture to effortlessly transform the skin's past damage and fortify it against future damage from everyday skin stressors and the general signs of ageing.
LYCON Skin Adaptive Skin Science Technology understands the intricacies and nuances of the skin, allowing for each product to uniquely deliver what the skin needs, while the skin in turn takes what it needs in each specific area to achieve outstanding visible results.
This new range features three masks, a hydrating anti-ageing serum, and micellar cleansing gel in retail and professional use sizes. The dynamic masks can achieve a multitude of different results; deeply hydrate, firm, reduce excess oil flow and pore size, calm blemishes, and soothe and smooth the look of fine lines and wrinkles. They are an excellent trio for multi masking treatments at home and in the salon, to cater for the different skin areas on the face, neck and décolletage.
The pièce de resistance of this range is the Revitalising Hyaluronic +B5 Booster Serum, an intensive lightweight serum which provides an instant moisture surge to plump the skin from deep within. It contains dual action Hyaluronic Acid complex, Provitamin B5 and Beta Glucan, making it packed to the brim with decadent, gentle bioceutical ingredients that provide superior results, boosting the effects of LYCON Skin's adaptive technology all day long.
The beauty of the LYCON Skin collection is that it is a multi-faceted and succinct, yet a fully functional skincare of exceptional quality that makes the skin think and behave like young skin. This is why with LYCON Skin everyone can have a more youthful complexion easily and effectively without complicated regimes or unnecessary expense, and it is vegan friendly.
Lydia says: "At LYCON, we never skimp on quality. We take pride in being the best and quite simply, we love exceeding customer satisfaction – it's in our LYCON DNA!" 
This article first appeared in the January/February issue of Professional Beauty magazine. Download the issue here.
For more news and updates, subscribe to our weekly newsletter