Solaire Spray Tan Solutions has bagged the 'Best Spray Tan Brand' at the 2019 Luxlife Awards, beating out dozens of competitors.
Citing an impressive list of tanning-industry innovations – including the use of true bases and its flawless and faultless results – Solaire cemented its place as the premier spray tan manufacturer in the country.
"With 25 years in the industry, our mission has always been to supply the best spray tan on the market. The multiple awards we have won are a testament to the collaborative systems we have with our customers. We are thrilled to have won the Best Spray Tan Brand in Australia by LuxLife. The award acknowledges Solaire as the tanning industry innovator and spray-tan specialist," founder Adam Taylor said of the win.
After a quarter of a century in the Australian tanning industry, Solaire estimates to have applied over 50 million spray tans, and to be the favoured tanning brand of leading salons.
The go-to for spray-tan salons around the country, the brand has also expanded into the UK and US market, becoming a firm favourite for salons and clients alike.
While all Solaire's solutions are 100% natural and PETA-approved, they're also free of propylene glycol, erythrulose, synthetic DHAs, parabens and petro chemicals.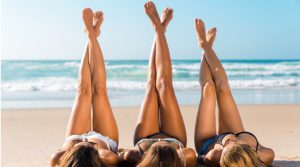 "We carry over 40 different blends of solution. We supply and are requested more than any other brand on the market. We are known for our green, violet and red-base solutions," said a representative of the brand. "At Solaire we don't believe that you should have to fit into one company's type of spray-tan solution. We can even manufacture your very own custom blend of solution."
While they're basking in their win at the Luxlife Awards, they're not ones to rest on their laurels, having also just released Colourfuze Complex – a scientific blend of natural ingredients and complex protein and peptide structures, leading to a longer-lasting, deeper and more natural-looking tan.
For more news and updates, subscribe to our weekly newsletter.