As people become more invested in beauty ingredients and savvier about what's in the skincare they use, brands are ever pressed to find break-through cutting-edge ingredients and formulations to top the latest actives on the market. Yet SkinCeuticals have done just that with its latest research-backed antioxidant serum Silymarin CF.
---
---
This is the first time it'll be available in Australia. Other milk thistle (Silybum marianum) derivatives and extracts exist in other products, but Silymarin is a compound for which SkinCeuticals holds the patent thanks to brand founding scientist Dr. Sheldon Pinnell.
Silymarin CF is an innovative antioxidant serum underpinned by the anti-blemish, oil-reduction, UV-combating powers of Silymarin. It brings a novel product to market that battles environmental stressors on oily and blemish-prone skin, skin types that are often overlooked when it comes to antioxidant, anti-ageing skincare.
What is Silymarin?
The active ingredient Silymarin is is actually derived from the Milk Thistle plant. It's been used as an oral supplement for ages, particularly for liver health, and is widely availbable in health food stores. In skincare, it inhibits the excess production of oil in the skin and to protect it against UV rays and the premature ageing caused by them. For skincare applications the optimum concentration is 0.5% milk thistle extract to help prevent oil oxidation, and that's the concentration in SkinCeuticals Silymarin CF.
What are the benefits of using Silymarin?
When we asked the team what the benefits of Silymarin are in beauty products, they said told us that this breakthrough oil-free vitamin C antioxidant serum is specifically designed to provide advanced environmental protection for oily and blemish-prone skin, which is a game changer. So many who suffer breakouts or have sensitive skin shy away from vitamin C or find the antioxidant products made to combat premature ageing are texturally wrong for their skin.
How is it used in this breakthrough antioxidant serum?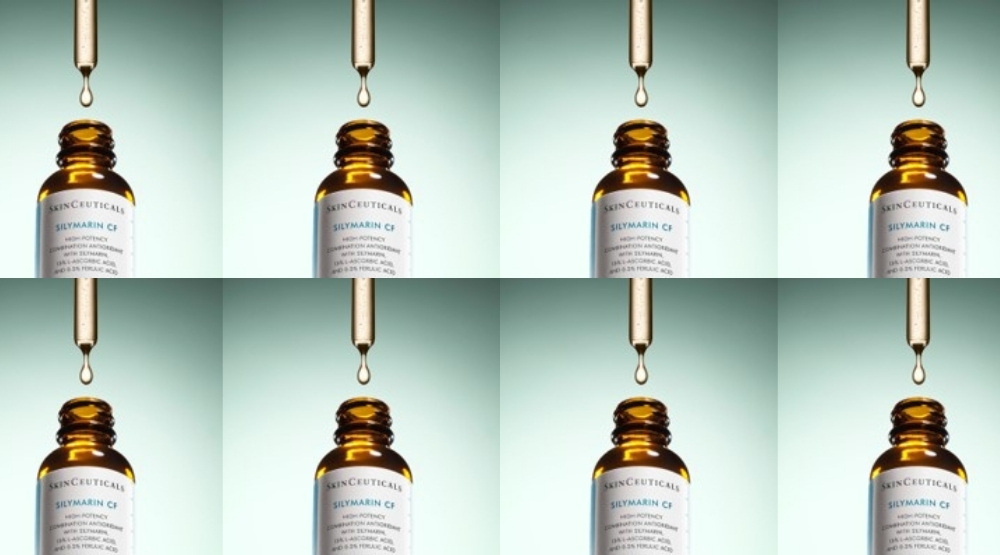 Silymarin CF contains a precise antioxidant combination of Silymarin, pure vitamin C and ferulic acid stabilised in a patent-pending delivery system to improve the appearance of oily and blemish-prone skin and reduce visible signs of ageing.
The active ingredient concentrations are:
0.5% silymarin helps prevent oil oxidation
15% pure vitamin C provides powerful antioxidant protection against skin-ageing free radicals
0.5% ferulic acid enhances the stability and performance of vitamin C
0.5% salicylic acid helps unclog pores and targets blemishes
In the clinical trials run by SkinCeuticals, the serum has been shown to reduce oiliness, refine skin texture and visibly improve clarity and the appearance of fine lines with no downsides, no photosensitizing, although it's always recommended to follow with a high-SPF sun product, like SkinCeuticals Ultra Facial Defence SPF 50+.
What does oil oxidation have to do with blemishes?
When asked why it works so well on blemish-prone skin, the brand revealed that their research showed that the oxidation of skin oils like sebum can damage skin and create a favourable environment for blemishes to form. In fact, blemish-prone skin has been shown to have a lower level of antioxidants, leaving it more vulnerable to oxidative damage. Daily environmental aggressors like UV and pollution generate free radicals that can further exacerbate this condition.
SkinCeuticals has identified a new opportunity in the application of topical antioxidants to help prevent oil oxidation. "The oxidative theory of ageing is well established in the scientific community. With this launch, we're bringing the oxidative theory of blemish formation to light – the idea that oxidation can also lead to breakouts, specifically from oxidation of sebum," said Leslie Harris, Global General Manager of SkinCeuticals. "Through six years of persevering research we have been able to develop a synergistic vitamin C antioxidant formula for those with oily or blemish-prone skin so they can confidently incorporate a vitamin C into their skincare regimen. It features silymarin, a potent antioxidant derived from the milk thistle plant, demonstrated to help inhibit oil oxidation."
---
---
Are there any good scientific studies on Silymarin?
As a brand committed to in-vivo (live skin) proof, SkinCeuticals conducted multiple independent clinical studies to demonstrate Silymarin CF's efficacy across key attributes in oily, blemish-prone, and ageing skin. Results demonstrate:
16% reduction in oiliness1
Up to a 76% reduction in oxidation of skin oils2
38% improvement in skin texture3
25% improvement in clarity3
24% improvement in fine lines3

1Protocol: a 12-week, single-centre clinical study was conducted on 50 women and men ages 18-50 with oily, blemish-prone skin. Silymarin CF was applied once daily in conjunction with a sunscreen. Results stated at 1 week.
2Protocol: Sebum collected from the forehead of 35 subjects with oily skin, after 4 weeks of Silymarin CF use. The ratio of squalene-to-squalene peroxides was measured.
3Protocol: an 8-week, single-centre clinical study conducted on 55 women ages 25-50 with mild to moderate signs of photodamage. Silymarin CF was applied once daily in conjunction with a sunscreen.
SkinCeuticals Silymarin CF is launching soon Australiawide. Watch the SkinCeuticals Australia site for more information on stocking it or find it at SkinCeuticals X EST Clinic (this unique concept clinic is the first of its kind in the southern hemisphere), RRP $228 (30ml).
Want to learn more about this breakthrough serum from SkinCeuticals? You're in luck! Professional Beauty readers are invited to an exclusive symposium introducing this wonder product to Australia.
---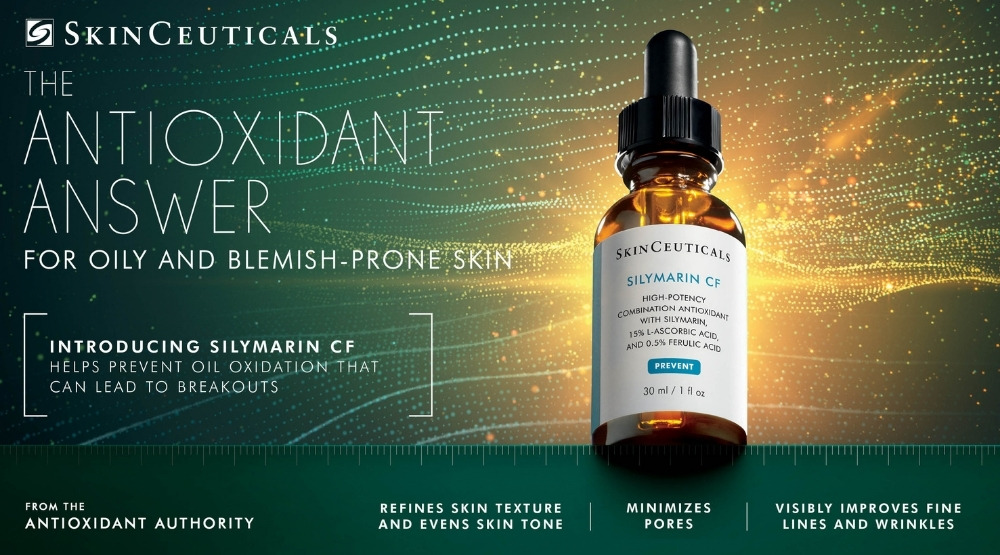 ---
—
Read the current issue of our digital magazine here:
Have your save. What do you think about the way the beauty industry has been handled during the pandemic? Email us at info@professionalbeauty.com.au and we will publish reader letters.
—
Have an idea for a story or want to see a topic covered on our site and in our pages? Get in touch at info@professionalbeauty.com.au.