When it comes to eyebrows, the buzz words are: thick, full, bold. In the quest to satisfy clients' demands for Cara Delevingne's brows, there's a new treatment hitting Australia's shores.
Keratin eyebrow laminating achieves the results of microblading, but works with the existing brows, rather than using tattoos and dyes to enhance them.
By applying a specialised keratin to the brows, and allowing it to process, the formula is infused into the hairs, resulting in a smoother, fuller-looking brow. It also softens any coarse grey hairs so that they sit flush to the skin. Every hair lies in the same direction, giving a just-combed effect.
Royals Clinic Australia in North Ryde is the first salon in the country to offer keratin brow laminating, and founder Fay Rezaei says the treatment is their most successful to date. "It's been the biggest brow service since launch. Clients have been walking out the clinic with fluffy, thick brows. It's definitely biggest brow craze for 2020, and we believe it will kick the microblading trend out."
Unlike microblading, there is no pain, and practically no downtime. "Downtime is very little. You can not wet the brows for the first 24 hours. No steams, saunas or hot showers. I would avoid the gym too. Any sweating or contact with steam and water can relax the brows," says Fay.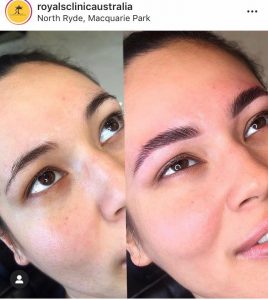 The three-step process that Fay carries out at Royals Clinic is, she believes, what has her clients coming back, eager to have it reapplied when the growth cycle kicks in two-to-three months later. "First we manually set the brow hairs in place with our special gel in the direction we know would be most suitable to our client. For the stubborn brow hairs that curl in or lift up, we apply a strong glue-like gel to set them. Once the brow hairs are shaped and combed into place our keratin is lathered into the brows using a micro brush for precise application. Cling wrap is used to help activate the keratin."
After a few minutes the keratin is wiped off and a conditioning treatment with mushroom extract is applied over the brows this helps nourish and encourage brow growth. "Once set, the nourishing lotion is wiped off and oil is applied to set the hairs in place. You are now fluffy brow ready," says Fay
The treatment costs between $100 and $130.
For more news and updates, subscribe to our weekly newsletter.