Some of Australians leading beauty professionals will reveal the mistakes they've made on the long road to success at the inaugural BEAUTY & SPA Insiders summit.
During the summit at Sydney's Ovolo on May 27, a panel, which includes Angela Veljanoski (the founder of Skin Angel) and Carla Preston (the founder of Beauty in a Box) will discuss 'The mistakes I don't regret – key things I've learned in my career'.
In the lead up to the event, we asked Carla, a few questions, about her journey to launching Beauty in a Box, which creates and delivers fully designed and fitted out salons to properties all over Australia.
What is your background in the beauty industry?
"I have been a beauty therapist for 15 years. I have travelled around Australia working in lots of different salons and gaining lots of experience. I have owned two salons in Byron Bay before selling them and moving home to Victoria to have my babies."
What exactly is Beauty In A Box?
"We create fully fitted out salons out of 20ft shipping containers so beauty professionals can work from home. The salons, which we design to suit clients' individual needs, come with a split system, running water, a business logo at the entry and a cute little deck off the front. We deliver the salons to our client's homes, and then after setting it up on their property, hand them their keys (and a bottle of champagne) to celebrate the launch of their new business."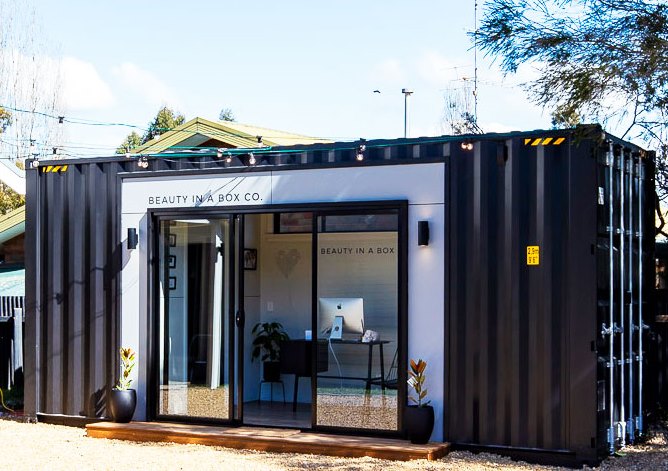 Why did you decide to launch Beauty in a Box?
"After having run two salons and the stress of staff and very expensive leases I wanted to design a beautiful modern salon that people could work in from home. I found the balance of being a mum and running businesses very hard so I thought this was a great alternative. I get to run a salon around my babies. My clients get the feel of a real salon but I can offer lots more after-hours times."
Can you share one big mistake you've made in your beauty career (and what you've learned from it)?
"I just feel perhaps I listened to too many people and because I was such a young business owner people tried to take advantage of that but it was the best thing to have happened as it made me so strong. I now see a bullshitter a mile away."
What is the most common mistakes that beauty therapists who want to open their own salon make?
"I feel they perhaps look at the money they make their boss and think the boss makes huge amounts of profit. What people don't know is the huge expenses behind the scenes that are the costs to run a business. It is such hard work but so rewarding. My salons were successful but I worked my bum off every day of the week."
If you could give one piece of advice to your 18-year-old self, what would it be?
"Have a goal and focus on it but still have lots of fun. Life gets serious later on and you can never get back that 'no obligations, no commitments' life again."
For more information on the BEAUTY & Spa Insiders summit, which will be held in Sydney on May 27, click here.
If you want to take advantage of the summit's $100 Early Bird discount offer register here before midnight this Friday April 5.