As the call for less invasive facial treatments intensifies, Advanced Cosmeceuticals has presented their latest offering: ActivLayr Nano-Collagen Boost.
It's the world's first marine collagen nano fibre eyepatch, resulting from years of biotechnology research and development.
Composed of 100% natural and sustainably sourced ingredients, ActivLayr is the fastest, non-invasive bioactive dermal delivery system in the world. Within five seconds, the patches deliver bioactives to depths of 2.5mm into the skin, penetrating the deeper dermal layers to produce instant results.
In an independent clinical test, volunteers experienced an average of 19% reduction in wrinkle volume, 16% improvement in skin elasticity, and 15% improvement in trans-epidermal water loss.
"ActivLayr marine collagen nanofibre technology is a quick and efficient way of delivering both collagen and supporting nutrients directly into the skin to help protect and repair," said Dr Bhuvana Kannan, ActivLayr Research and Innovation Manager.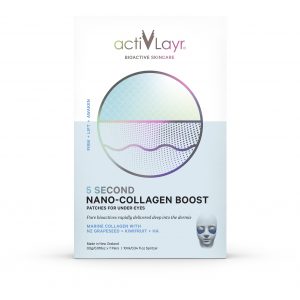 Unlike traditional wet sheet masks, ActivLayr's unique Sonic Electrospinning manufacturing process creates functional nano-fibres, that are instantly absorbed into the skin during the five-second treatment. All the bioactive ingredients become stabilised during the electrospinning process onto a dry patch. 
Designed, developed and manufactured in New Zealand, ActivLayr instantly dissolves into moistened skin to deliver actives in less than one minute. This speed exceeds all the published literature values to date for non-invasive transdermal delivery.
In addition to marine collagen with its skin-tightening properties, ActivLayr packs in three more high-achieving ingredients to get its impressive results.
Sauvignon Blanc grape seed extract helps to improve skin elasticity, while kiwi fruit extract contains antioxidant properties to prevent the appearance of dark circles, and hyaluronic acid helps to retain moisture, reducing fine lines and giving skin a dewy and younger-looking appearance.
The absence of fragrances, alcohol, detergents, thickening agents, emulsifiers, preservatives and synthetic chemicals means that ActivLayr is also ideal for sensitive skin.
For more news and updates, subscribe to our weekly newsletter.