Tell us how The Secret Duo was developed?
"Secret DUO is the latest adaptation to the award-winning Secret RF. The addition of 1540nm erbium glass laser in a single device delivers practitioners a unique aesthetic solution for a wide range of skin concerns. These two technologies can work individually or in combination treatment to give the optimal treatment flexibility to all patients."
What are its benefits?
"Secret DUO treatments will provide benefits to skin tone and texture, wrinkle reduction, skin lifting and tightening, improved appearance in atrophic scars, active scars and stretch marks."
Who is the ideal client for this treatment?
"Patients who are wanting to rejuvenate their skin and achieve improvements for tone and texture are ideal. Enlarged pores, skin laxity and fine lines will see stunning improvements after a course of treatments."
How many treatments are needed for this to be effective?
"Depending on the indication being treated, a course of three to six treatments are recommended."
Can you tell us the advantages of salons investing in this technology?
"Secret DUO offers salons two technologies to treat a wide range of indications. The 1540nm laser targets mild to deeper resurfacing for lines, wrinkles and sun damaged skin, while the RF microneedling works for scar & pore reduction, face and neck rejuvenation, plus jowl defining and lifting."
What support is given to salons investing in this equipment?
"Cryomed Aesthetics provide world-class training, marketing and service support when investing in Secret DUO. Our elite clinical team will coach practitioners on how to customise treatments with these dual technologies to maximise benefits and potential."
Any tips on how salons can maximise their investment?
"Salons will find benefit from utilising the technologies together and separately for individual and combination treatments. Another success our clients have seen is creating packages of 3 treatments with a discount of approximately 20%.".
What has the reaction been from clients to this latest innovation?
"Many clients are excited to be able to offer these two technologies individually and combined to harness their potential. Utilising the 1540nm erbium glass laser on its own provides a light to medium rejuvenating treatment with minimal downtime. Secret RF alone can be utilised for skin tone, texture, tightening and more. The best results are seen from two to four treatments spaced four weeks apart."
This is a combined treatment Fractional and Microneedling – how effective is it to combine these treatments in one appointment? "By combining these two technologies, we can deliver more efficient clinical results with virtually no downtime and very minimal side effects. This new combined non-ablative fractional resurfacing technique makes it a much gentler process with significantly reduced recovery time compared to the conventional ablative fractional laser."
—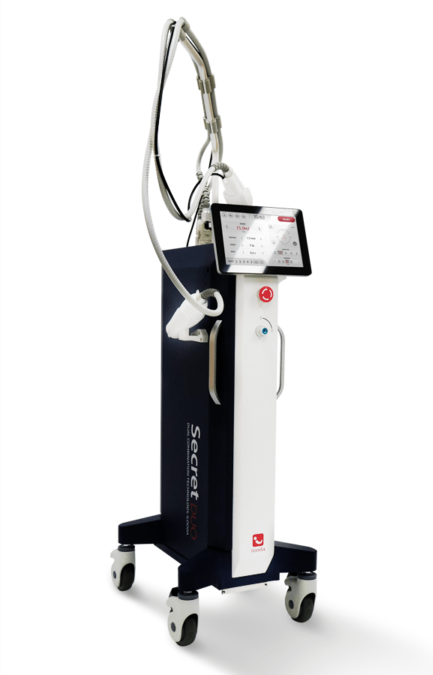 WHAT IS IT?
SECRET DUO offers dual non-ablative fractional technologies of micro-needle RF and 1540nm erbium glass laser in a single device as a total aesthetic solution for a wide range of skin concerns. These two technologies can work individually or in combination treatment to give the optimal treatment flexibility to all patients.
THE LOW DOWN
Specific coagulation points created with RF Microneedling, from 0.5mm to 3.5mm deep, generate rejuvenation and collagen synthesis and the 1540nm laser will resurface superficially creating a new skin surface.
STEP 1: PREP THE SKIN: As with any treatment, the first step is to cleanse. Then, we apply topical anaesthetic to ensure the patient is as comfortable as possible.
STEP 2: THE PROCEDURE: Depending on the indication, 2 or 3 cross-hatched passes are used.
STEP 3: THE AFTERCARE: It's important that the client does not use any aggressive products, exfoliation or active skin care ingredients for the first week. No makeup should be worn for the immediate 24 hours. Excessively hot water and sun exposure should be avoided for the first few days to a week.
READ THE ARTICLE IN THE DIGITAL MAGAZINE BELOW:
To learn more contact: Cryomed Aesthetics, 1300 346 448, www.cryomed.com.au, info@cryomed.com.au
—
For more news and updates, subscribe to our weekly newsletter